What is the 24-Hour Flight Cancellation Rule?
The 24-hour rule is a powerful tool that allows you to snag great deals and cancel for free if needed.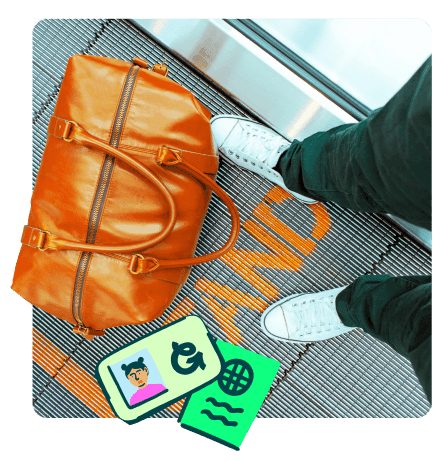 Meet the travel membership saving you hundreds of dollars on flights. We've helped millions travel and experience the world without breaking the bank.
There aren't many opportunities to make changes with airfares. With most airlines, any sort of change will require a minimum fee (often at least $200) plus the difference in fare. The 24-hour rule is a major exception, and it can be a cheap flight lover's best friend.
What does the 24-hour rule cover?
The 24-hour rule ensures free cancellations or changes on most flights that:
originate in or are going to the US on any airline, not just US-based companies, and
were booked directly with the airline, and
were booked at least seven days in advance.
What does the 24-hour rule not cover?
There are a few exceptions. The 24-hour rule does not apply to tickets that:
were booked via an online travel agency (OTA) like Expedia, Travelocity, etc. (though some have their own 24-hour cancellation rules), or
were booked within seven days of travel, or
are for flights that do not originate in or are not flying to the US (e.g. London to Bangkok would not be included in USDOT rules), or
are for flights where the airline has opted to offer a free 24-hour price hold instead of free 24-hour cancellation.
Why the 24-hour rule matters
The 24-hour rule is a very powerful tool for travelers for several reasons.
It can help you get the lowest price on your flight—we often see price drops within 24-hours of booking and the rule means you can book the cheaper fare and cancel the previous, more expensive booking.
It gives you 24 hours to decide if you want to take the trip and ensures you don't miss an amazing deal or mistake fare while you're waiting to find out if the dates work, line up child care, get work time off approved, coordinate with friends and family, etc.
I bought a flight and now I've found a better deal. What should I do?
Make sure you're still within the 24-hour window from when you purchased the first flight.
Book the new flight at the cheaper rate before you do anything else. This ensures you lock in this new, better price (it could go up in minutes).
Once you've booked the new flight, cancel the old one.
The reason you should book the new flight before you cancel the old is simple. If you cancel the old flight first, and then miss snagging the new flight at a great price, you're out of luck and left with no ticket.
On the other hand, if you book the new flight first but then take too long and miss the 24-hour window to cancel the first one, you can just cancel the new one, keep the first one, and you're no worse off than you were in the beginning.
How can I cancel my flight without penalty?
If it's within 24 hours of booking, and you're more than seven days out from your departure on a flight to or from the US booked directly with the airline, you can cancel your flight with no penalty through the airline with which you booked.
If the 24-hour rule doesn't apply to your booking (for example, if it's after the 24-hour period, or your flight is not to or from the US) and you want to cancel your flight, you'll likely need to call the airline or the online travel agency through which you booked.
In most cases, if it's after 24 hours from booking, there will be a fee to change or cancel your flight.
Which airlines let you cancel within 24 hours? Do all airlines allow 24-hour cancellation?
The 24-hour rule is a regulation from the US Department of Transportation that says airlines must offer either free 24-hour price hold (so you can lock in the price and purchase within 24 hours) or free cancellation for 24 hours. All airlines (including non-US airlines) must honor this rule for flights going to, or originating in, the United States, so long as the flight was booked directly with the airline at least seven days in advance of the flight.
For example, a United flight from Berlin to Los Angeles is covered; a Lufthansa flight from New York to Frankfurt is also covered. However, a Qatar Airlines flight from Qatar to London is not covered.
Nearly all airlines opt for the option of free 24-hour cancellation, however, there are a few exceptions. A handful of carriers offer 24-hour holds instead of the free 24-hour cancellation, including Qatar Airways and Turkish Airlines; you can hold the price for 24 hours, but once you pay, your fare is subject to the airline's standard cancellation fees.
Can you cancel flights within 24 hours in the UK?
Policies vary by airline; there's not a universal rule. For example, British Airways allows customers to cancel a flight booking and claim a full refund without penalty up to 24 hours from when the original booking was made. easyJet does the same but charges an admin fee.
Other airlines might allow you to cancel (with an admin fee) and many low-cost carriers, like Ryanair, don't issue refunds at all, and will charge you a fee for canceling. On some airlines, it's possible to buy a more expensive ticket that is "flexible," allowing you to make changes.
What if I booked a flight through an alternate country portal?
One hack for buying cheaper flights can involve logging in through an alternate country portal to take advantage of lower fares in a certain currency.
However, be forewarned: As this rule applies to travel to and from the US, some international airlines' websites will not have these policies built into their sites for customers in other countries, creating more of a process to get the cancelation without penalty (you're still covered under the rule but it might take more time/hassle to get the refund).
So, if a carrier has country-specific reservation portals and you think you might want to utilize the 24-hour rule, it might be worth your time to make your booking on the US site.
Which OTAs have a 24-hour cancellation policy?
Orbitz: In most cases, Orbitz will allow you to cancel tickets on US carriers, up to 10pm (or sometimes 11 pm) on the day following purchase. However, individual cases may vary and all tickets are governed by the terms and conditions you agreed to when you purchased them. Some fares are non-refundable; if you cancel, you may be eligible for a flight credit instead.
Travelocity: Travelocity allows 24-hour flight cancellation, but there is some fine print. To be eligible for 24-hour flight cancellation by Travelocity you must have booked each ticket you are seeking to cancel on Travelocity.com at least seven days before the scheduled departure date. If your itinerary includes multiple tickets (such as a roundtrip that combines two different airlines), these terms will apply to each ticket separately—there is also a list of airlines for which this rule does not apply, mostly international low-cost carriers.
Expedia: Expedia's language is a bit cagey. "For some airfares, if you cancel within 24 hours, no penalty fees apply," which sounds like you can still cancel within 24 hours. However, it also states that "If you cancel a non-refundable flight reservation, the airline may issue you a flight credit for a future booking instead of a refund" and that "some flight reservations are not eligible for a flight credit after cancellation. If you cancel one of these reservations, you will lose the value of your ticket." Basically, you might be able to cancel within 24 hours if you have the right type of reservation. To be safe, read the fine print when you book.
Priceline: Priceline allows 24 hours to cancel or change your flight without penalty in most cases, but you can actually stretch it to 72 hours in some instances because Priceline actually allows you to cancel many tickets free of charge until 11:29 PM ET the next business day. So if you book on a Friday that means you can cancel the ticket without penalty until 11:29 PM ET on the following Monday. You'll need to check the exact cancellation terms for your ticket as this policy doesn't apply to Express Deals or flights on certain airlines such as Frontier and Spirit. If you purchase an "Express Deal," in which the full itinerary is not disclosed prior to purchase, this fare is non-refundable and non-changeable.
Is it cheaper to cancel a flight or change it?
It depends on the flight. Most airlines charge a fee to change or cancel a flight once you've passed the 24-hour window. The fee can vary widely by airline. However, other airlines have more flexible policies. For example, Southwest doesn't charge a change fee; they only charge any difference in fare. You might even get money back if the new fare is cheaper.
The bottom line: The 24-hour rule is a powerful tool for travelers. Not only does it allow you to snag great deals and have time to consider if you really want to go, but you can also grab a cheaper price on the same flight if the price drops within 24-hours of booking.
However, it's much easier to make this work if you book through the airline directly, as policies on OTAs can vary.
Last updated Jun 30, 2023