What is an Airport Code?
An airport code is a three- or four-letter code used to identify a particular airport.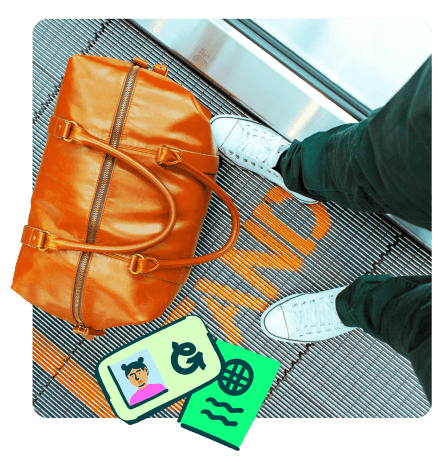 Meet the travel membership saving you hundreds of dollars on flights. We've helped millions travel and experience the world without breaking the bank.
What are the different types of airport codes?
There are two main types of airport codes: IATA (International Air Transport Association) and ICAO (International Civil Aviation Organization). 
IATA codes are three-letter codes used to refer to the majority of commercial airports worldwide. IATA codes are also assigned to bus, rail, helicopter, and ferry terminals that codeshare with airlines for ticketing and baggage transfers. 
The less common four-letter ICAO codes are used to refer to airports that haven't been given an IATA code; they are also used by air traffic control officials.
Why are airport codes three letters?
Back in the 1930s, pilots began referring to airports using the National Weather Service's two-letter city identification system. 
By the 1940s, however, the amount of airports in the US was outgrowing the number of available NWS codes, so the airlines expanded to a three-letter code system, often adding X to previously coded airports (i.e. LA became LAX). The IATA later standardized these three-letter codes in the 1960s.
How do airports get their codes?
Most IATA codes are derived from the first three letters of an airport's city, like MIA for Miami International or DEN for Denver International. Other codes reference the name of the airport itself, like MDW for Chicago Midway International or JFK for John F. Kennedy International in New York City. 
No two airports are allowed to share an IATA code, so if both of those options are already taken, the airport may be given a code that refers to an aspect of the city's history or specific location. 
For instance, Louis Armstrong International in New Orleans took the code MSY in honor of pioneering pilot and longtime Louisiana resident John Moisant, Orlando International's MCO designation comes from its former life as McCoy Air Force Base, and Nashville's BNA got its B from Colonel Harry Berry, head of Tennessee's Works Progress Administration throughout the Great Depression (the NA stand for Nashville).
How many airport codes are there?
The IATA's three letter permutation (26 x 26 x 26) allows for a total of 17,576 unique location codes. 
According to the organization's website, they have currently administered over 11,000 location codes worldwide. There are 8,965 airport codes, followed by 235 bus stations, 816 rail stations, 151 heliports, and 64 ferry ports.
What are the airport codes for some of the top airports in the US?
ATL: Atlanta
BOS: Boston
BWI: Baltimore 
CLT: Charlotte
DEN: Denver
DFW: Dallas/Fort Worth
DTW: Detroit
EWR: Newark
FLL: Fort Lauderdale
IAH: Houston
JFK: New York
LAS: Las Vegas
LAX: Los Angeles 
MCO: Orlando
MIA: Miami
MSP: Minneapolis 
ORD: Chicago O'Hare
PHL: Philadelphia 
PHX: Phoenix
SAN: San Diego
SEA: Seattle
SFO: San Francisco
SLC: Salt Lake City
STL: St. Louis 
TPA: Tampa
What are the airport codes for some of the top international airports?
AMS: Amsterdam
ATH: Athens
BKK: Bangkok
CDG: Paris Charles de Gaulle
DEL: Delhi
DUB: Dublin
DXB: Dubai
EZE: Buenos Aires
FCO: Rome 
HKG: Hong Kong
ICN: Seoul
IST: Istanbul
JNB: Johannesburg 
KUL: Kuala Lumpur
LHR: London Heathrow
MAD: Madrid
MEX: Mexico City
NRT: Tokyo Narita
PTY: Panama City
SIN: Singapore
SVO: Moscow Sheremetyevo
SYD: Sydney
TPE: Taipei
YVR: Vancouver
YYZ: Toronto
Going members get amazingly cheap flights delivered right to their inboxes.