What is a Codeshare?
A codeshare agreement is an arrangement between two or more airlines to "share" the same flight.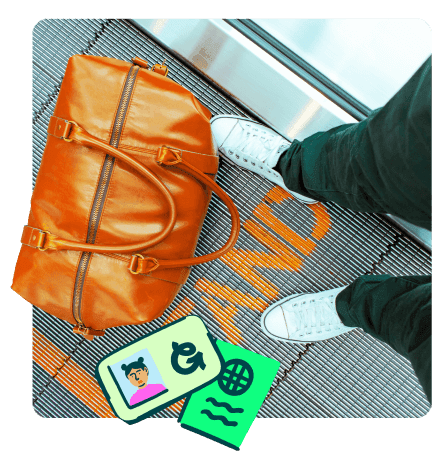 Meet the travel membership saving you hundreds of dollars on flights. We've helped millions travel and experience the world without breaking the bank.
Ever purchased a flight through one airline, only to show up at the airport and be rerouted to a different airline check-in desk? If so, you probably missed the fine print indicating your flight is operated by a codeshare partner.
Here's an example: you recently snagged a great Going deal to Tokyo though United, but the codeshare operator is ANA. When it's time to go to the airport, your plane, crew and gate will all be operated by ANA. For all purposes it's an ANA flight, but because United doesn't have a flight to fulfill the journey you want to take, they partner with ANA. It encourages bookings through United, while ANA still earns business. Win, win right? If you're still not fully sold, here's everything you should know about a codeshare.
What is a codeshare flight?
A codeshare flight is defined by the U.S. Department of Transportation as a "marketing arrangement in which an airline places its designator code on a flight operated by another airline, and sells tickets for that flight." Simply put, airlines use codeshare flights to sell tickets to destinations they don't actually fly to (or to offer more options for places they do fly to). It encourages customer loyalty even when your preferred airline isn't available. That's because you're still booking through that favored airline, and as a perk, earning miles and status—though some airlines award fewer miles for flights operated by a codeshare partner.
Codeshare arrangements expand market presence without the added cost of additional planes and routes, making an airline more competitive, efficient and accessible to the customer. On a codeshare flight, the operating carrier is the airline flying the plane, while there are also marketing carriers, or, the other airlines selling seats on the flight.
How does code sharing work?
Most major airlines utilize codesharing agreements as part of overarching partnerships and alliances. On a codeshare flight, two or more airlines offer a flight under their own flight number and each sell seats, however the actual flight is only operated by one airline. Airlines must have an agreement to do this. You can't just book a flight on a budget airline and hope to show up and take a different premium airline traveling to the same destination.
Book codeshare flights like you'd book any ticket. Just search through your preferred portal, select your dates, times and ideal airline (paying attention to that fine print) and pay. Often times, you can also pay with miles for flights on other airlines through these partnerships, though some airlines may have rules against this.
No matter how you booked, the airline operating the flight is the one you'll check in with. From the example earlier, even though you purchased through United, you'll check in with ANA, and every step of the process, including the plane, will be through ANA. Only, you'll earn miles with United, and pay for your fare directly to United rather than ANA.
Other ways codeshares operate are on multi-leg journeys where you fly one segment on one airline, and during a layover, switch to a second airline for the next leg. Both of these segments will be ticketed as one flight ticket, issued by one airline who is a codeshare partner with the second. This is a popular option when flying to a smaller city through a larger hub.
For example, you might book a flight from New York to Nice, France on Virgin Atlantic. The leg from New York to London is operated by Virgin, but a codeshare with Delta. You could choose to earn miles on Delta, if it's an airline you flight more often. From London, neither Delta nor Virgin fly to Nice, but their partner British Airways does. All segments and airlines would be ticketed together and purchased as one, despite technically spanning three airlines.
How do you know if a flight is a codeshare?
Airlines are legally mandated to clearly state when a flight is operated as a codeshare. You should see this in the booking process, usually under the flight number with the words "operated by," displaying the operating airline's name. This should be visible during not only the booking process, but on the confirmed ticket as well.
On Google Flights, the results show which airline the flight is actually operated by, but list which additional airlines also sell the tickets.
On Kayak, the results show the airline you're purchasing the flight with, but then note which airline is actually operating the flight.
To check which airline is operating a particular flight, refer to the listed flight number in the booking process, or find it in your ticket confirmation after purchasing. You may also receive a check-in reminder leading up to the departure, which should list it.
For a codeshare flight, which airline do I check in with?
For a codeshare flight, you'll check in with the operating airline at their desk at the airport or online. Refer back to your flight confirmation email, which will have a confirmation number or record location number associated with your reservation.
Do you have to recheck bags when changing airlines?
If you have one or several layovers as part of a multi-leg trip, as long as all portions were purchased together as one ticket, you should not have to recheck bags (we'll get to that "should" in a second).
In most cases, if you are booked on a single itinerary with Air France for example, and your first flight is with Air France, and the second is a codeshare on KLM, you will not have to recheck bags during the layover to KLM. Your bags would be ticketed and checked all the way through to your final destination.
It's important, however, to double check this policy with the airline when you check in for your first flight. Ask whether the other airline being flown has differing rules about baggage than the first operating carrier, and keep in mind that some countries have rules about claiming your bag upon entry, even if you haven't reached your destination. This last part can happen whether or not you're on a codeshare flight.
Should I book a codeshare flight?
It really depends on your needs. Codeshares let you book through preferred airlines, earn and redeem miles, and have greater access to a wide range of destinations, while still showing loyalty to your preferred airline. And if you require a multi-leg journey, it will all be part of a single ticket. This avoids the hassle of multiple check-ins like you'd encounter when booking each leg separately (though sometimes doing this can save you enough money the minor inconvenience is worth it).
And while that sounds like a great deal, it can be a source of frustration if you missed the fine print. For example, the operating airline likely won't allow upgrades if you didn't book direct, and instead went through their partner airline. There may not be an option to use status or redeem miles to change cabins. Likely, you would just have to pay the difference in fare if the airline will allow it. And while we're on the topic of price, be sure to compare fares. Just because airlines choose to both sell tickets to the same flight, doesn't mean they always offer the same price.
Codeshares can be a useful way to book flights, earn miles, and get where you need to go. However, before purchasing, read the fine print. Always know which airline is truly operating your flight, and how their policies around earning miles, in-flight services, and other key factors might impact your trip.
Going members get amazingly cheap flights delivered right to their inboxes.
Last updated Jun 12, 2023