What is a No-Show for a Flight?
A no-show is when a ticketed passenger doesn't show up for their flight.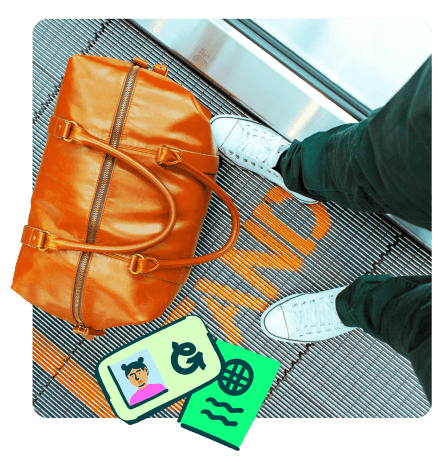 Meet the travel membership saving you hundreds of dollars on flights. We've helped millions travel and experience the world without breaking the bank.
What happens if I am a no-show for my flight?
Airlines explicitly state what happens to no-shows in their contract of carriage, which is a legal document that explains the terms and conditions of the fare. In general, if you are a no-show for your flight, any subsequent flights on the same itinerary will be canceled without a refund.
Can I get charged for missing a flight?
Most airlines only charge a fee for missing a flight if the passenger seems to have a habit of doing it purposely, commonly known as skiplagging, in which a passenger books a ticket with no intention of taking the secondary legs of a trip in order to secure a cheaper fare.
Otherwise, you typically won't be charged a fee, but you may lose the value of the ticket.
Can I get a refund for a missed flight?
Is it better to cancel a flight or be a no-show?
If you know you can't make a scheduled flight, it's better to cancel your flight rather than be a no-show. If you cancel, you might receive a partial or whole credit for the fare purchased, to be applied to a future flight. Most US legacy airlines typically charge a fee of around $200 to change a flight, plus the cost of the fare difference when rebooking to change your flight, so you likely won't get the full fare back. But, if you're a no-show, it's less likely you'll be able to recoup any part of the fare.
However, not all airlines are the same. For example, Southwest Airlines gives you until 10 minutes before a scheduled departure to change your ticket. The rule stipulates that "customers who fail to cancel reservations for a Wanna Get Away fare segment at least ten (10) minutes prior to travel and who do not board the flight will be considered a no show, and all remaining unused Wanna Get Away funds will be forfeited. All remaining unused Business Select, Anytime, and Senior funds will be converted to reusable travel funds for the originally ticketed Passenger only."
If you need flexibility, it's important to pay attention to the fine print when booking as change fees and cancellation policies can vary by airline and by fare class. While more affordable, basic economy comes with strict policies around cancellations and changes, and the tickets often can't be changed at all once the initial 24-hour period after purchasing has passed. If you need to change or cancel a basic economy ticket, you may lose the entire value of the ticket.
What should I do if I'm late for my flight?
If you are going to be late for your flight and you think you might miss it, the best strategy is to call the airline right away. This is because the sooner the airline knows that you'll be late, the more options you will have to fix it, and for less money.
Many airlines have an informal "flat tire" rule that allows them to book you on the next available flight (without a hefty fee) if you have a good reason for getting to the airport late. If you miss a connecting flight, the rules are more relaxed and there typically won't be fees, as long as both legs of the journey were booked together as one ticket and itinerary. In these cases, the airline will book you on the next available flight.
If you've booked flights on two separate itineraries and a delay with the first flight makes you miss the second, the second airline may still help you, but it's under no obligation to do so.
Can I skip the last leg of my flight?
Though airlines don't like it, there's nothing illegal about skipping the last leg of your itinerary, and since you don't have any future flights on the itinerary, there's nothing to get canceled out (normally if you skip a leg, all subsequent legs are canceled). Just make sure you don't check any baggage, as your belongings will go straight to the final destination.
>> Join Going and get cheap flights and travel tips delivered right to your inbox.
Last updated Jun 12, 2023