What is a Nonstop Flight?
A nonstop flight is a flight without any scheduled stops between the departure and destination cities.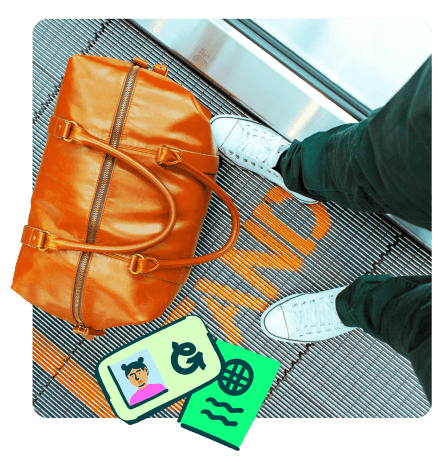 Meet the travel membership saving you hundreds of dollars on flights. We've helped millions travel and experience the world without breaking the bank.
What is the difference between a nonstop flight and a direct flight?
A nonstop flight and a direct flight are technically different. While a nonstop flight flies uninterrupted from point A to point B, the phrase "direct flight" can be used to describe a flight route that is listed under one flight number but actually has one of several stops between the origin and final destination. 
Along the way, the plane may land to let some passengers off, and others board. On most direct flights, you will remain on the plane at the stop until you land at your destination, though some instances may require a plane change, and you will be directed as such. 
However, though there is a technical difference between the two terms, most people (including us at Going) use the terms interchangeably and refer to nonstop flights as direct (and vice versa). If the flight has to land and take off, we consider that a connecting flight and will note it as such.
Is it cheaper to fly nonstop?
It is generally not cheaper to fly nonstop, as you are paying a premium to fly quickly and without interruption. In fact, while there are exceptions (such as with airlines that operate a point-to-point route instead of hub-and-spoke), nonstop flights can sometimes be much more expensive than flights with a connection. 
The price depends on many factors, including competition for a specific route. For example, if one airline is the sole provider of a nonstop flight between two cities, they know they can charge more because there is no other airline to compete with them on price for that route. Alternatively, when multiple airlines fly the same route, the fare may be cheaper in a bid to attract customers. 
Additionally, flights with connections may incur additional fees such as Passenger Facility Charges, which are airport upkeep fees almost all airlines include in their ticket price. 
Also keep in mind that with any connection, you're subject to the potential inconvenience of delays and the more connections you have, the more chances for a delay. If you need to get to your destination as quickly as possible or have a fixed schedule, a nonstop flight may be worth the price.
What is the longest nonstop flight in the world?
Currently, the longest nonstop flight in the world is Singapore Airlines' route between Singapore Changi International Airport (SIN) and Newark Liberty International Airport (EWR). The journey clocks in at nearly 19 hours when flying from the United States to Singapore, spanning a distance of over 9,500 miles. Don't forget your compression socks on that one. 
Right behind them is Qatar's 17 hour and 40 minute trip from Auckland (AKL) to Doha (DOH), and Qantas' nonstop service from Perth (PER) to London (LHR), which takes 17 hours and 20 minutes.
What is the longest nonstop flight from the US?
The longest nonstop flight from the US is the aforementioned US to Singapore route on Singapore Airlines. When flying within the US, that title goes to Hawaiian Airlines with its Boston (BOS) to Honolulu (HNL) route, which takes approximately 11 hours and 40 minutes.
>>Join Going and get cheap flights and travel tips delivered right to your inbox.
Last updated Jun 12, 2023