What is a Stopover?
A stopover is a layover during which you leave the airport (and often stay a day or more in the layover city).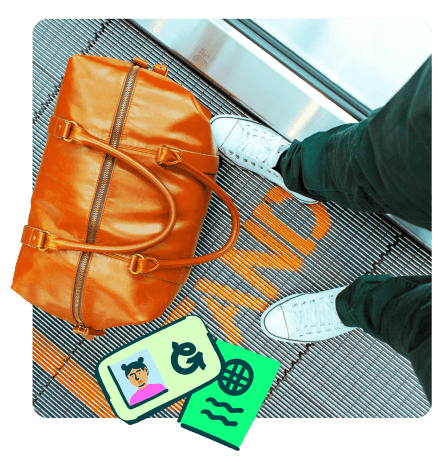 Meet the travel membership saving you hundreds of dollars on flights. We've helped millions travel and experience the world without breaking the bank.
What's the difference between a layover and a stopover?
The terms are often used interchangeably. However, while layover is often used to describe both a shorter stop (such a connection during which you don't leave the airport) and a longer stop between flights, the term stopover is generally used to describe a connection of 24 hours or more during which you leave the airport.
How long is a stopover?
Depending on the airline, a stopover could be one day or several days. You may even be able to add a couple of stopovers to your itinerary, creating a multi-stop trip that feels more like a round-the-world adventure.
Which airlines offer free stopovers?
There are several airlines that have embraced the free stopover concept, often to boost local tourism to the airline's home country. Here are a few airlines to check out for their free stopover policies:
Airlines like Japan Airlines and Singapore Airlines don't explicitly offer free stopovers, but they do have multi-city booking tools that allow you to build stopovers into an itinerary for no extra charge. There are also stopover programs (like those from Emirates, Qatar Airways, and Singapore Airlines) that aren't free but offer benefits like discounted tours or hotels for a relatively small add-on fee.
Also note that some airlines allow the addition of one or two stopovers on award tickets, but others don't.
>> Read more about airlines and airports that offer free hotels and tours for stopovers.
How do you book a stopover?
In some cases, booking a stopover is as simple as using one of the sites linked above—those airlines make it easy to add a stopover to your trip.
If you're not booking with one of the airlines listed above, however—or you want to visit a city that's not on the offered list—that doesn't mean you can't add a stopover. You just need to be a little more creative about it.
To book a DIY stopover itinerary, you're essentially booking a multi-city flight itinerary, with the "stopover" being the middle city. This way, you get to choose how long you stay, how many stopovers you add to your trip, and whether you add stopovers to one or both legs of a roundtrip journey.
If you're looking for a stopover that potentially reduces the overall cost of airfare, look at the common layover destinations on simple round-trip tickets. Flying from New York to Sydney, you might run into plenty of itineraries that connect in Los Angeles—which makes it an ideal candidate for a stopover. Getting separate tickets from New York–Los Angeles and then Los Angeles–Sydney may cost less than buying a simple New York–Sydney ticket. (We call this the Greek Islands trick.)
>> Join Going and get cheap flights and travel tips delivered right to your inbox.
Last updated Jun 12, 2023