What are Visa Reciprocity Fees?
Visa reciprocity fees are visa fees charged by one country as a counter to fees charged by another.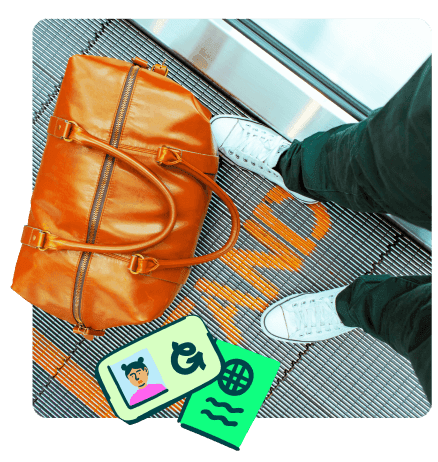 Meet the travel membership saving you hundreds of dollars on flights. We've helped millions travel and experience the world without breaking the bank.
Additional requirements to get a visa may include fees or fingerprinting, and there may also be limits placed on how long certain nationals can be in a country.
Country A and Country B may also reach an agreement to ease or waive visa requirements to one another's citizens as a gesture of friendliness and trust. That's also visa reciprocity, though the term is used much more frequently to describe the imposition (rather than the waiver) of visas or visa fees.
Which countries have visa reciprocity fees for US travelers?
The list of countries that charge visa fees to visiting US citizens occasionally changes, so even if you don't see your destination on this list it's a good idea to check with the latest requirements on the US State Department's international travel section. Search for the name of the country and then expand the "Entry, Exit, and Visa Requirements" section for details and links to get whatever documents you might need.
The countries listed below all require US citizens to have a visa in order to travel there, though not all require that travelers get the visa beforehand. Some have e-visas you can get online within 24 hours of departing for your trip, some have visas you get (paying in cash) upon arrival, and others have a complicated paperwork process you'll want to start well in advance.
Afghanistan
Algeria
Angola
Australia
Azerbaijan
Bahrain
Bangladesh
Belarus
Benin
Bhutan
Bolivia
Burkina Faso
Burundi
Cambodia
Cameroon
Chad
China
Congo
Cote d'Ivoire
Cuba
Democratic Republic of the Congo
Djibouti
Egypt
Eritrea
Ethiopia
Gabon
Gambia
Ghana
Guinea Bissau
Republic of Guinea
India
Iran
Iraq
Jordan
North Korea
Laos
Lebanon
Liberia
Libya
Madagascar
Malawi
Mali
Mauritania
Mozambique
Myanmar (Burma)
Nepal
Niger
Nigeria
Oman
Pakistan
Papua New Guinea
Paraguay
Russia
Rwanda
Sierra Leone
South Sudan
Sri Lanka
Sudan
Suriname
Syria
Tajikistan
Tanzania
Togo
Turkey
Turkmenistan
Uganda
Uzbekistan
Venezuela
Vietnam
Yemen
Zimbabwe
‍
Join Going and get cheap flights and travel tips delivered right to your inbox.
Last updated Jun 12, 2023