What is a Bulkhead Seat on an Airplane?
Bulkhead seats are airline seats directly behind the bulkhead, or the interior dividing wall that separates cabins.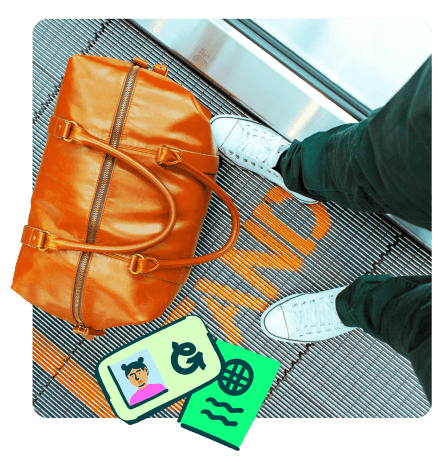 Meet the travel membership saving you hundreds of dollars on flights. We've helped millions travel and experience the world without breaking the bank.
Bulkhead seats usually have more legroom than other seats of the same fare class. While smaller planes may only have one bulkhead closer to the front of the plane, larger aircrafts with multiple sections may have multiple bulkheads throughout the plane.
What are the advantages of a bulkhead seat?
Because there is no row stationed immediately in front of them, bulkhead seats tend to have more legroom than other seats in the same cabin. Additionally, seat pitch isn't impacted by the passengers in front reclining during the flight, so these seats tend to feel more open and roomy. 
In most airline configurations, passengers in the middle and window bulkhead seats can more easily access the aisle for a trip to the lavatory or to retrieve a bag from the overhead bin thanks to this extra room. Bulkheads also tend to be closer to the front of the plane for faster departure, and closer to the lavatories and galleys (though this can also be seen as a drawback).
Some airlines also offer bassinet hooks attached to their bulkheads, making this row type an ideal option for parents with infants.
What are the disadvantages of a bulkhead seat?
Bulkhead seats lack seats directly in front of them, meaning they also lack under-seat storage space. Passengers seated in bulkhead rows must stow their carry-ons in the overhead bin during takeoff and landing. While they can keep personal items at their feet during the flight, it does cut down on legroom. Passengers with onboard pets which must be stowed under the seat aren't allowed to reserve bulkheads for this reason.
Bulkhead seats also don't have access to standard seat back entertainment systems. Instead, they're either equipped with seatback-sized screens affixed to the bulkhead barriers in front of them (immovable and placed significantly farther away than a regular seatback screen) or with a pop-out screen stored in the armrest. 
Neither option is great, as the small fixed screens are often harder to view and the armrest screens can be clumsy to operate, cut down on seat width, and render the armrests themselves immovable. The same goes for tray tables—they're also stored in the armrests, further decreasing seat width and adding to the armrest's overall bulk.
As mentioned, bulkhead seats are more often than not located very close to the lavatories or kitchen galleys. While this can be a benefit for some, it also means you might be crowded by other passengers waiting to use the bathroom, stretching their legs, or requesting something from the flight attendants.
How can I reserve a bulkhead seat on a plane?
To reserve a bulkhead seat, you can identify and select it from your flight's online seat map during the booking process. If you're not sure which row is the bulkhead, research your aircraft's particular configuration on sites like SeatGuru, which also includes tips, reviews, and passenger photos detailing the best and worst seats on each type of plane. 
If you're traveling with a baby and need a bulkhead with a bassinet hook, call the airline ahead of time to make sure you're reserving the right row.
>> Going members get amazingly cheap flights delivered right to their inboxes.
Last updated Jun 12, 2023