What is Airline Seat Pitch?
A seat's pitch is the amount of space between one point on a seat to the same point on the seat in front of it.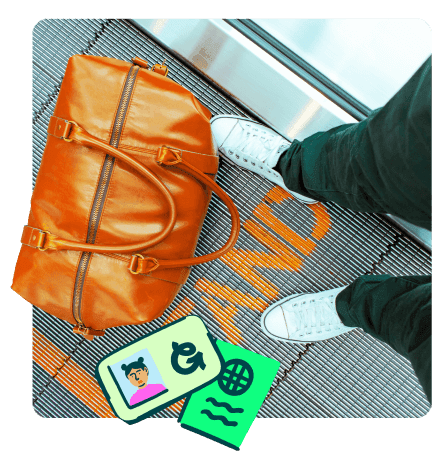 Meet the travel membership saving you hundreds of dollars on flights. We've helped millions travel and experience the world without breaking the bank.
What does airline seat pitch measure?
A seat's pitch refers to the measurement of space between one point on an aircraft passenger seat to the same point on the seat in front of it. It's measured in inches/centimeters and the higher the number, the more legroom and space you'll have between your seat and the one in front of you.
What is the standard seat pitch in economy?
Standard seat pitch is 30 to 31 inches in economy class for most carriers, with 32 inches being slightly above average and 29 inches falling slightly below. 
Keep in mind, though, that different planes have different configurations depending on make, model, and airline. More pitch usually means more legroom for each passenger, but this isn't always the case as legroom can be further impacted by design factors like seat thickness, tray table placement, and the amount of storage space beneath each seat. Additionally, certain seats, like those in the exit row or bulkhead, may have more legroom.
How can I tell how much legroom my flight will have?
Airlines often publish standard seat pitch information on their websites but if you want something more specific, SeatGuru is a great resource for researching a specific plane's layout. You can search by airline and flight number or by aircraft model (this information can usually be found on your reservation or digital boarding pass). SeatGuru breaks down each fare class by number of seats, seat width, and seat pitch and also provides an interactive map of the plane's interior complete with passenger reviews, photos, warnings, and tips. 
Google Flights also provides the seat pitch for a particular flight, and notes whether it is average, above average, or below average with its search results.
Which airlines have the most legroom in economy?
Since airlines often customize their plane models to fit their specific needs, it's hard to give a definitive answer. However, this SeatGuru chart, sortable by airline and pitch among other categories, can give you a sense of what to expect when flying specific airlines and aircrafts. 
Again, pitch can vary by aircraft, but in general some of the airlines that offer more pitch in economy are Virgin Australia, Finnair, Asiana, Southwest, JetBlue, Air France, and United (on some models).
Which airlines have the least legroom in economy?
You can generally assume that modern low-cost airlines, especially those that designed their aircraft layouts to privilege maximum passenger capacity, will offer the least amount of pitch. 
Jet2, Frontier, Iberia, Jetstar, Scoot, and Spirit have some of the smallest amounts of legroom, all falling in the range of 28 to 30 inches depending on the specific seat. 
‍
>> Join Going and get cheap flights and travel tips delivered right to your inbox.
Last updated Jun 12, 2023