What is Global Entry?
Global Entry is a program that gives expedited immigration clearance to pre-approved US travelers.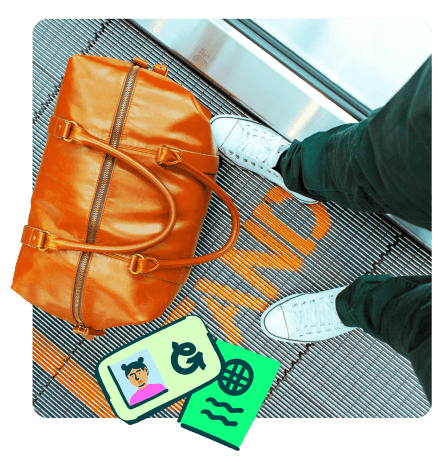 Meet the travel membership saving you hundreds of dollars on flights. We've helped millions travel and experience the world without breaking the bank.
What are the benefits of Global Entry? What does Global Entry include?
Global Entry allows you to skip the lines at US Customs when you reenter the US. You don't have to fill out the customs form (you click a few buttons on the kiosk) and you don't have to wait to have your passport scrutinized, so you save time in several ways.
Global Entry includes the ability to skip customs lines and use a kiosk instead and you'll have access to expedited entry benefits in other countries. Plus, you'll get TSA PreCheck for use in the US.
Which countries accept global entry?
There are Global Entry kiosks located in:
UAE: Abu Dhabi International Airport (AUH)
Aruba: Aruba: Queen Beatrix International Airport (AUA)
Bermuda: Bermuda International Airport (BDA)
Canada: Calgary International Airport (YYC), Edmonton International Airport (YEG), Halifax Stanfield International Airport (YHZ), Montreal Pierre Elliott Trudeau International Airport (YUL), Ottawa Macdonald-Cartier International Airport (YOW), Toronto Pearson International Airport (YYZ), Vancouver International Airport (YVR), Winnipeg James Armstrong Richardson International Airport (YWG)
Ireland: Dublin Airport (DUB), Shannon Airport (SNN)
Bahamas: Grand Bahamas International Airport (FPO), Nassau - Sir Lynden Pindling International Airport (NAS)
Which US airports have Global Entry kiosks?
Anchorage (ANC)
Austin (AUS)
Baltimore/Washington DC (BWI)
Boston (BOS)
Burlington (BTV)
Charlotte (CLT)
Chicago (MDW and ORD)
Cincinnati/Northern Kentucky (CVG)
Cleveland (CLE)
Dallas/Ft. Worth (DFW)
Denver (DEN)
Detroit (DTW)
Fairbanks (FAI)
Ft. Lauderdale (FLL)
Houston (IAH)
Guam (GUM)
Hartford (BDL)
Atlanta (ATL)
Honolulu (HNL)
Houston (HOU)
Indianapolis (IND)
Kansas City (MCI)
St. Louis (STL)
Los Angeles (LAX)
Las Vegas (LAS)
Miami (MIA)
Milwaukee (MKE)
Minneapolis/St. Paul (MSP)
Nashville (BNA)
New Orleans (MSY)
New York (JFK and SWF)
Newark (EWR)
Oakland (OAK)
Ontario (ONT)
Orange County (SNA)
Orlando (MCO, MLB, and SFB)
Philadelphia (PHL)
Phoenix (PHX)
Pittsburgh (PIT)
Portland (PDX)
Providence (PVD)
Raleigh-Durham (RDU)
Sacramento (SMF)
Saipan, Mariana Islands (SPN)
Salt Lake City (SLC)
San Antonio (SAT)
San Diego (SAN)
San Francisco (SFO)
San Jose (SJC)
San Juan, Puerto Rico (SJU)
Seattle (SEA)
South Bend (SBN)
Southwest Florida (RSW)
Tampa (TPA)
Toledo (TOL)
Washington DC (IAD)
How long does Global Entry membership last?
Global Entry membership expires after five years.
Who is eligible for Global Entry?
US citizens, US lawful permanent residents, and citizens of the following countries are eligible for Global Entry membership: Argentina, India, Colombia, the UK, Germany, Panama, Singapore, South Korea, Switzerland, Taiwan, and Mexico.
Note: There may be additional requirements you must meet depending on your country of citizenship. For instance, Canadian citizens and residents are eligible for Global Entry benefits through membership in the NEXUS program, though they're not eligible to enroll. Citizens of the Netherlands who are enrolled in FLUX are eligible to enroll in Global Entry. If you're under the age of 18, you must have a parent or legal guardian's consent.
What are the requirements for Global Entry?
You may not be eligible if you provide false or incomplete information on the application; have been convicted of any criminal offense or have pending criminal charges or outstanding warrants (including driving under the influence); have been found in violation of any customs, immigration or agriculture regulations or laws in any country; are the subject of an ongoing investigation by any federal, state or local law enforcement agency; are inadmissible to the United States under immigration regulation, including applicants with approved waivers of inadmissibility or parole documentation; or cannot satisfy CBP of your low-risk status.
What information do I need for my Global Entry application?
To apply for Global Entry, you'll need your passport information as well as information from a secondary form of identification (like a driver's license). The application will also ask for your mailing and residential address, your occupation (and work address) and vehicle information if you want to register your car for SENTRI. It will also ask for five years of previous employment history and home addresses, and if you've been convicted of any criminal offense or if you've ever been found in violation of customs laws, etc.
How do I apply for Global Entry?
To apply for Global Entry, create a Trusted Traveler Programs (TTP) account. Log in to your TTP account and complete the application. A $100 non-refundable fee is required with each completed application. After accepting your completed application and fee, US Customs and Border Protection (CBP) will review your application. If your application is conditionally approved, then your TTP account will instruct you to schedule an interview at a Global Entry Enrollment Center.
How long does it take to get Global Entry?
Processing times for Global Entry vary by applicant, but on average you can expect your application to be processed for Global Entry within 11 weeks.
How long is the wait for an interview for Global Entry?
The waiting time for a Global Entry interview depends on where you schedule an interview. Some locations have only a few interview slots a month, which can result in waiting several months to get an appointment; others have several appointment slots per day. You can view all of the Global Entry Enrollment Centers by state here.
Going members get amazingly cheap flights delivered right to their inboxes.
Last updated Jun 12, 2023