What is TSA PreCheck (TSA Pre✓®)?
TSA PreCheck is a program that allows approved travelers expedited security screening at certain US airports.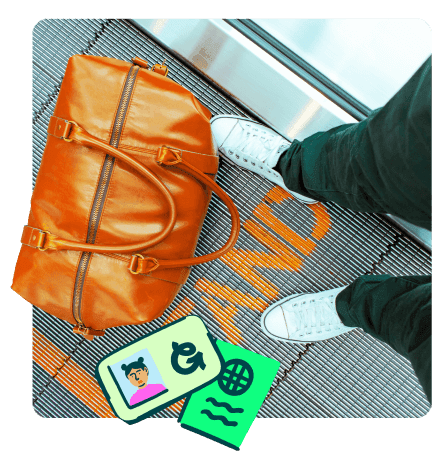 Meet the travel membership saving you hundreds of dollars on flights. We've helped millions travel and experience the world without breaking the bank.
How do you qualify for TSA PreCheck?
To qualify for TSA PreCheck, you must submit an online application and then complete a 10-minute, in-person appointment at the airport that includes a background check and fingerprinting.
Do you always get TSA PreCheck when you apply?
At this time, only US citizens, US Nationals and Lawful Permanent Residents (LPR) are eligible for the application.
Additionally, there are three types of disqualifying criminal offenses that may cause TSA to deny your application. If a background check reveals criminal offenses in other countries, TSA will deny your application; if you have a record of violating TSA security policies or have any security-related offenses on an airplane, boat, etc. they will also deny your application.
Do seniors automatically get PreCheck?
No. Anyone who wants to receive PreCheck needs to apply. However, TSA does provide people who are 75 years old or older access to an expedited screening process in the regular screening lines: You can keep your light jacket and shoes on.
What documents are needed to apply for TSA PreCheck?
To apply for TSA PreCheck, you must provide an original or certified copy of identity/citizenship status documentation during the application process and the names on all documents must match exactly with the name provided on the application. If you have legally changed your name, you must provide an original or certified name change document (such as marriage certificates and divorce decrees) in addition to the required documentation.
You can use: an unexpired US passport (book or card); unexpired Enhanced Tribal Card (ETC); unexpired Free and Secure Trade (FAST) Card; unexpired US Enhanced Driver's License (EDL) or unexpired Enhanced Identification Card (EID); Permanent Resident Card or Green Card; unexpired foreign passport AND immigrant visa with I-551 annotation of "Upon Endorsement Serves as Temporary I-551 Evidencing Permanent Residence of 1 Year" or unexpired Re-entry Permit (I-327).
If you do not have any of the above documentation, you must provide a valid photo ID and a document that meets citizenship requirements (e.g., a birth certificate, certificate of citizenship, etc.)
Can you get TSA PreCheck with a felony?
You will not be able to get TSA PreCheck with certain felony convictions on record, including convictions for espionage, murder, threat, and Racketeer Influenced and Corrupt Organizations Act (RICO) violations.
Along with felonies, some criminal offenses, including extortion, bribery, and firearms related incidents, can disqualify you from being approved for TSA PreCheck if they occurred in the last seven years. Additionally, if you were found not guilty by reason of insanity for a crime, you could be barred from participating in the program.
How long does it take to get TSA PreCheck?
The online application for TSA PreCheck takes about 5-10 minutes to fill out (and be sure to complete the application in one go because you will get timed out of the website). After you fill out the application, you must submit the non-refundable application fee and you must make an appointment to get interviewed, submit fingerprints, etc. After the appointment, you should receive written notification within two to three weeks. There is also the option to check your status online.
How long does it take to get a TSA PreCheck interview?
It depends on where you are located. After filling out your TSA PreCheck application, the website will show interview locations that are near to you and potential interview dates and times. You may be able to schedule an interview within 24 hours, or it may take longer.
How long does the TSA PreCheck interview take?
The TSA PreCheck interview only takes about 10 minutes
What should I bring to the TSA PreCheck interview?
For your TSA PreCheck interview, you should bring the same form of identification that you indicated on your application (see above). Your photo will be taken, so be prepared.
Can I get a TSA PreCheck interview at the airport without an appointment?
Yes, if you've already filled out the application online. However, you may end up waiting quite a bit; it's best to just make an appointment.
Join Going and get cheap flights and travel tips delivered right to your inbox.
Last updated Jun 12, 2023