What is Carry-On Baggage?
A carry-on bag is a piece of luggage that can be brought on board the plane and stowed in the cabin.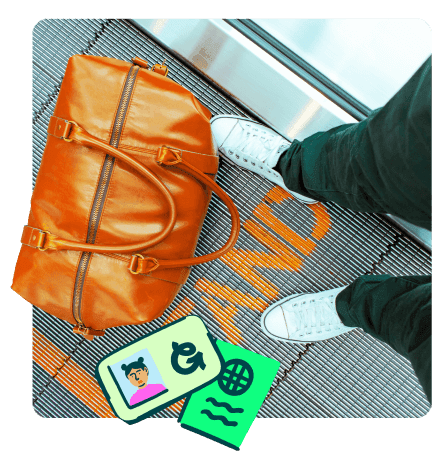 Meet the travel membership saving you hundreds of dollars on flights. We've helped millions travel and experience the world without breaking the bank.
What is considered carry-on baggage?
Technically, any piece of luggage that you "carry on" to an airplane is a carry-on bag. Most airlines allow one piece of carry-on luggage or "hand baggage" that can fit in the overhead bin, plus a "personal item" (a smaller purse, computer bag, diaper bag, small backpack, etc. which can go under the seat in front of your).
How picky are airlines about carry-on size?
This varies by airline. Some airlines require passengers to fit their bags into a measuring device before boarding; others are more lenient, especially if the flight is not full. Some low-cost carriers (the now-defunct WOW among them), are notorious for weighing and measuring each carry-on bag, prompting some passengers to wear multiple layers of clothes on the plane to meet the requirements.
What happens if I get to the gate and my bag is too big?
According to airline rules, if your carry-on bag is too large, the airline will require you to gate-check your bag and, often, pay a hefty fee to do so. Of course, what the rules state and what actually happens isn't always the same. The agent might not notice, they might notice but not care, or they might notice and require you to check the bag. It can depend a bit on the airline (some are notoriously more strict than others), the agent, and how egregiously large your bag is.  
If you are required to check your bag, it will be tagged and you'll pick it up at baggage claim at your destination. Sometimes you'll pick it up on the jetway once you've landed at your destination. The gate agent will tell you if that's the case.
Could my bag be gate-checked even if it meets the carry-on requirements?
Yes. If the plane is very full or it's a smaller aircraft than expected, you might have to gate-check your bag. If this happens to you, make sure everything vital, like your travel documents and passport, medicine, electronics, and jewelry is placed in your personal item bag, not the gate-checked carry-on.
What is the standard size of a carry-on?
The standard domestic carry-on luggage size is 22" x 14" x 9" (including the handle and wheels), though you might find an inch or two of difference between airlines—for example, Southwest allows bags up to 24" x 16" x 10".
International carry-on sizes vary, but most follow the same size requirements as domestic airlines.
Note: If you see a size listed in "linear inches," take the combined length, width and depth of the bag and you'll have your total in linear inches. 22" + 14" + 9" = 45 linear inches.  
To avoid getting nailed on the size of your carry-on, check the requirements when you book your ticket or consult this handy list.
What's the difference between a carry-on and personal item?
Most airlines allow passengers to bring on both a carry-on and a personal item like a backpack, laptop bag, purse, briefcase, shopping bag, etc. The general rule of thumb is that your personal item is smaller in dimension than your carry-on bag and it can fit underneath the seat in front of you.
How many carry-on bags can you bring on a plane?
Typically in economy, you can bring one carry-on and one personal item. If you bring two bags, one must fit underneath your seat and the other can go into the overhead bin. If you're flying in an upgraded class like business or first, you may be allowed an additional carry-on bag. And if you're flying on certain budget airlines or you hold a basic economy ticket on certain airlines (and certain routes), you may be restricted to only a personal item. In short, policies can vary, so always double-check what's allowed for your flight.
Is there a weight limit for a carry-on bag?
Most US domestic airlines don't have weight limits for carry-ons: If you can hoist it into the overhead bin, you're okay. However, some low-cost carriers and international airlines may have weight limits for carry-on bags ranging from 15 lbs (Qantas, Emirates) to 17 lbs (LATAM) to 22 lbs (Air Canada, Caribbean Airways, etc) and heavier. Just check the individual carrier before you fly.
Is carry-on luggage free?
It depends on the airline and the type of ticket that you buy and where you're flying. Most regular economy tickets on major carriers include a carry-on bag. However, on some low-cost airlines or when holding some basic economy tickets, you may pay an extra fee for a carry-on bag to go into the overhead bin. For example, United basic economy doesn't allow full-sized carry-on for flights to the Caribbean but it does for flights to Europe.
Make sure you know the rules of your carrier/ticket so you can avoid unexpected fees.
Which airlines allow a carry-on as part of basic economy? Which airlines charge for a carry-on?
Most airlines include a carry-on in a basic economy ticket, including: Aer Lingus, Air Canada, Air France, Air Italy, Alaska Airlines, America, British Airways, Delta Air Lines, Iberia, KLM, Lufthansa, Norwegian, Southwest, SWISS, and Virgin Atlantic.
Some low-cost carriers like Allegiant, Frontier, Sun Country, and Spirit charge for carry-on bags (but allow a free personal item that can fit under the seat).
United's policy varies by destination. On transatlantic flights, a carry-on bag is included. For all other basic economy tickets, a personal item that fits under the sea is allowed but any other bags must be checked. If you bring a carry-on bag to the gate, you'll pay the checked bag fee plus a $25 gate handling charge.
>> Going members get amazingly cheap flights delivered right to their inboxes.
Last updated Jun 12, 2023