What are Excess Baggage Fees?
Excess baggage fees are costs charged for checking luggage that exceeds an airline's standard luggage allowance.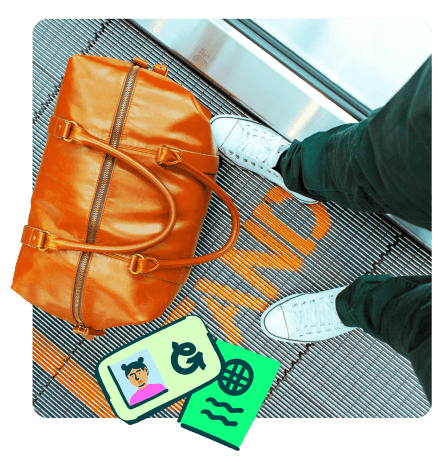 Meet the travel membership saving you hundreds of dollars on flights. We've helped millions travel and experience the world without breaking the bank.
How much checked luggage can I bring on a plane?
Even if you're paying to check bags, carriers limit the number of total bags you can check, and checked bags are subject to weight and size restrictions. 
Checked baggage allowances, both free and paid, can vary greatly by carrier, route, fare class or cabin, and airline loyalty program status. Typically you can check one to two bags up to 50 pounds each before you start encountering excess baggage fees (though standard baggage fees may apply). Most airlines will not allow a passenger to bring more than ten pieces of checked baggage on a plane.
What is considered excess baggage?
If a checked item exceeds a passenger's standard luggage allowance by quantity, weight, or size measurement, it's generally deemed excess baggage. 
Specific number, weight, and dimension restrictions differ based on carrier, route, fare class or cabin, season, and airline loyalty program status. These bags are subject to extra charges beyond standard checked luggage prices. Details about each airline's excess baggage policy can be found on the airline's website or by calling the reservations desk.
How much do airlines charge for excess baggage?
Each airline has their own policies when it comes to excess baggage rates. Expect to pay a lot more for bags that exceed your airline's standard luggage allowance than you would for bags that fall within the allowance, regardless of their size. 
For example, Delta Air Lines allows allows each Main Cabin economy passenger traveling between the US and Europe to check one bag for free. The second bag is $100. Once you get to bag number three, it's considered excess baggage and the price goes up to $285 per bag. A passenger cannot check more than ten bags, and the excess baggage is only accepted if there's space (if not, it'll be put on the next available flight). 
Excess baggage isn't only based on the number of bags, but on the size and weight as well. 
Going back to the Delta example, regardless of the number of bags you check, you'll pay an additional $100 per bag for bags weighing between 51 and 70 pounds (bags exceeding 70lbs are not accepted) and an additional $300 for bags measuring 63-80 inches in combined length, width, and height (bags larger than 80 inches are not allowed).
How much do you have to pay if your luggage is over 50 pounds?
While specific policies differ, most legacy airlines limit checked luggage to 50 pounds. That means that if your checked bag weighs more than 50 pounds, your airline will charge you a set fee on top of their standard baggage rate. Most airlines also have a weight limit, usually 70-80 pounds, after which they don't accept bags, even for an extra fee. 
Information about overweight bag policies can be found on your airline's website or by calling the reservations desk. Many airlines have exceptions for medical equipment and other special items, so make sure to investigate ahead of time if you're planning to check something that falls into that category.
Are baggage fees charged each way?
Most airlines charge passengers one price to check their bags from their original departure location to their final destination, regardless of layovers or plane changes in between (granted each segment of your trip is on the same airline or alliance partner). 
However, some budget carriers like Norwegian do charge passengers a separate luggage fee for each leg of their trip, so every layover or plane change incurs its own separate fee. Make sure to research your airline's policy before you book, as these extra charges can add up quickly if you're embarking on a multi-leg journey.
>> Going members get amazingly cheap flights delivered right to their inboxes.
Last updated Jun 12, 2023