What are Exit-Row Seats?
An exit row is the row of seats on an airplane that is next to the emergency exit.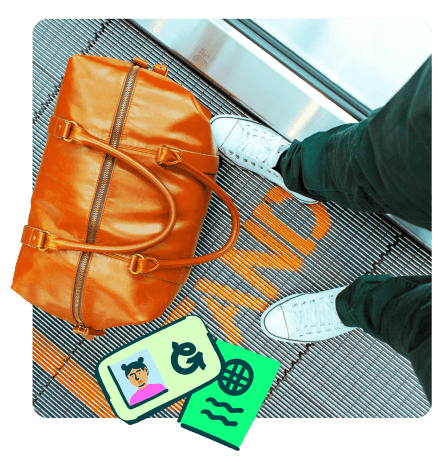 Meet the travel membership saving you hundreds of dollars on flights. We've helped millions travel and experience the world without breaking the bank.
What are the responsibilities of a person in an exit-row seat? Who can sit in exit-row seats?
A passenger sitting in an exit-row seat has the incredibly important responsibility of operating the emergency exit in case of an emergency. Flight attendants are required to brief exit-row passengers about how to do this properly. 
Although an emergency is unlikely, studies have shown that the importance of exit row passengers being able to operate emergency exits cannot be understated. If you're not up to the task, you must let your flight attendant know.
You can sit in the exit row if:
You have sufficient mobility, strength, and dexterity in both arms, hands, and legs; the hatches are heavy!
You are an adult. For most airlines, anyone under the age of 15 years old cannot sit in the exit row seat. This age can be different for some airlines or per country standards. 
You can speak the primary language. In the United States, you cannot sit in the exit-row if English isn't your first language. For other countries, you'll need to be able to understand the official language so that you can follow oral, visual, and written instructions. 
You are not deaf or visually impaired. See above.
You are able to communicate verbally. As someone sitting in the exit-row, you have the important task of articulating directions to other passengers. If you can't communicate effectively, you'll have to let the airline know. This is why flight attendants ask passengers to give a verbal "yes" if they understand the briefing.  
You have no other responsibilities that could complicate the emergency exit. For example, if you have small children seated elsewhere in the cabin, the flight attendant may ask you to move. If you have mental health issues or a pre-existing condition that could inhibit your ability to act in an emergency, you have to let your flight attendant know.
You are not a passenger of size. If you're a passenger of size and require a seatbelt extender, you will not be able to sit in the exit row because the extender may cause an obstruction. Also, people with decreased mobility cannot adequately act in an emergency.
You're not an expectant mother. You are required by law to move if you are pregnant.
You're not traveling with a cabin pet. Your pet is required to travel in a carry-on crate or kennel, which must be stored underneath the seat. Since items are not allowed to be stowed under the seats in the exit row, you're automatically disqualified from sitting here.
Can kids sit in the exit row?
No, children cannot sit in the exit row. This includes infants. Passengers in the exit row must be physically able to assist during an emergency. Many airlines define a child in this case as anyone under 15 years old, but age requirements vary by airline.
Are exit row seats better? What are the benefits of exit-row seats? What are the drawbacks of exit row seats?
If you need more legroom, the exit row has plenty of it (although the amount of legroom varies per aircraft).
However, these seats aren't for everyone. If you're nervous about assisting in an emergency, don't sit here. In some airline configurations, the seats can also be narrower if the armrests are fixed to accommodate the tray table and entertainment. 
If your exit row is also a bulkhead row (the row at the front of the plane or front of a section separated by a dividing wall) you may be asked to keep your carry-on luggage in the overhead, since there is no seat in front of you. In most exit rows, however, you can put an item under the seat in front of you, so long as it is fully underneath the seat and not obstructing the floor space.
Do exit row seats have TV?
If the aircraft has TVs, the exit row also has TVs. Sometimes they're stored in the armrest of your seat, but usually they'll be mounted on the bulkhead. The downside if they're stored in the armrest: you'll have to store your TV for take-off and landing.
Do exit row seats cost more? Are extra legroom seats worth it?
Nowadays most airlines will charge extra for the exit-row seats or they will offer frequent fliers the chance to reserve first. Otherwise, passengers have the opportunity to request the exit row when they're checking in. 
The cost to reserve an exit-row seat depends entirely on the airline and the fare you've purchased. For example, on US carriers, reserving an exit-row seat may cost as little as $20 for domestic flights but can be as high as $200. Air France charges up to €70 to reserve an exit-row seat on a long-haul flight and up to €20 for a short flight. 
It's up to you to determine whether or not the extra expense is worth it. If you're a very tall person on a long-haul flight, paying extra might be worth it for the additional comfort.
Do emergency exit row seats recline?
Whether or not your emergency exit row seat reclines depends on the aircraft. Some emergency exit rows have seats that recline, but seats in front of the emergency exit row usually do not recline because they could cause an obstruction in front of the emergency exit. If your aircraft has a double row of emergency seats, seats in the forward exit row won't recline. 
If this is a concern for you, use SeatGuru to find where you're sitting and whether or not your seat reclines.
How can I book an exit row seat?
Again, booking an exit row seat will depend on the airline. Some airlines, like Alaska, dictate that only elite frequent fliers can reserve seats in advance. Other airlines like Delta will sell their exit-row seats as Preferred Seating, meaning you'll pay at least $39 to reserve this seat in advance (and the price varies per airline, aircraft, route, and fare booked).
You can also consult the attendant at check-in or at your departure gate. If there's an exit-row seat available, they may move you there free of charge.
>> Going members get amazingly cheap flights delivered right to their inboxes.
Last updated Jun 12, 2023