What is First Class?
First class is a category of luxury seating on a plane that has more space, comfort, and service than other seats.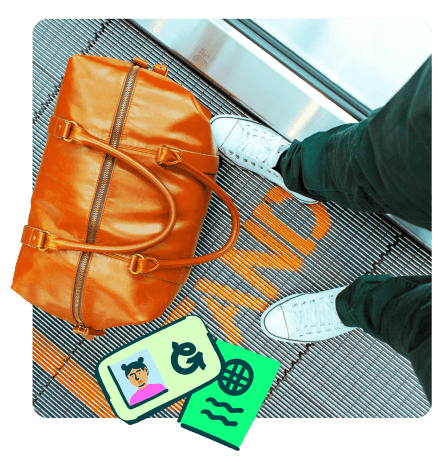 Meet the travel membership saving you hundreds of dollars on flights. We've helped millions travel and experience the world without breaking the bank.
Ah, first class. The passengers that get to board the plane first, sit at the front of the plane, and seem to have settled in with a glass of champagne before anyone else has even lined up. We all know first class tickets are more expensive than other seats (but we can help you save $2,000 or more on international first class flights), but let's get into the nitty-gritty of exactly what you get and if the extra expense is worth it.
What is first class on an international flight?
First class is a category of seating on a plane that has more space and is more comfortable than other seats, often by a factor of ten. For example, while the main (economy) cabin might have rows with nine or ten seats (in a 3-4-3 configuration), first class might have rows with just four seats (in a 1-2-1 configuration).
Depending on the airline, international first class could include private car service to the airport, a private lounge at the terminal, caviar and champagne on the flight, a lie-flat seat, or even a private compartment with a sitting area and a bed. Since there are fewer seats, each passenger gets more individualized attention and service from the flight attendant.
If you are on a long-haul international flight, booking a ticket in first class practically guarantees a delicious (or at least much more delicious than economy) meal and much more comfortable flight.
First class can also be found on domestic and short haul flights, but the experience is nowhere near as luxurious as first class on international flights; on domestic routes, first class seats are larger and more comfortable than economy but they definitely lack the bells and whistles (or lie-flat seats and private compartments) you'll see on long haul flights.
How much does an international first class ticket cost?
First class tickets can cost upwards of $5,000 internationally. On the very high end, an international first class ticket could cost tens of thousands of dollars. However, airlines sometimes make mistakes in pricing and there have been cases of airlines selling first class fares for much lower than they intended. A good deal on a long-haul international first class flight is around $2,000-$3,000 roundtrip.
What's the difference between first class, business class, and economy on international flights?
Economy is almost always the cheapest way to get from point A to point B. This section is home to the smallest seats and, depending on the airline, you might pay extra for drinks and meals; if you've opted for the cheapest basic economy ticket, you might even pay for advance seat selection and a carry-on bag. Many airlines now have a premium economy category, which is in between economy and business/first class and offers seats with extra legroom and more recline. On some airlines it also includes better meal service and an increased bag allowance.
There are usually minimal differences between first and business class. In fact, on some airlines the highest class of travel is business and there is no first class (though if the plane does have first class, it generally has business as well). That being said, on airlines that have both, business class tickets are usually considerably less expensive than first class.
In either business or first, you'll have much more legroom (like 60 inches more) than in economy, you may have a lie-flat seat, and you'll have access to the lounge in the terminal. Whether in first or business class, you'll probably be able to bring on more luggage or check an additional bag, drinks are in real glasses, meals are on real plates, and it's all complimentary.
The biggest difference between first and business class is the extra luxury factor. For example, in first class you might even have access to perks like complimentary airport transportation, a full-service bar, in-flight shower, and cozy pajamas. Additionally, you'll receive more attention from flight attendants; while a business class section could have 80 seats or more, most first class sections have a dozen or less seats.
Is first class worth it?
For short-haul flights, first class may not be worth it. Even for a long-haul flight, if your budget isn't unlimited—or you simply prefer to spend on other things—the extra expense of first class might not be worth it to you. However, if you're "I don't even have to ask how much it costs" rich, you like to travel in extreme luxury, or you can snag a first class ticket at a great price, it may be worth it for the over-the-top service and added comfort.
Can you find cheap international first class tickets?
First class tickets are rarely discounted; though it does happen, usually the price is still prohibitively high for most travelers, unless it's a crazy mistake fare (like when Cathay Pacific accidentally discounted a $16,000 first class fare to just $675). On the other hand, because business class fares start at a lower price, they are more likely to drop to a level where non-uber-wealthy travelers can afford the indulgence.
Going now sends cheap flight alerts for first class and business class travel to our Elite members! We look for business class deals in the $500s to Mexico and the Caribbean, around $1,200 to Latin America, $1,700 to Europe, and $2,200 to Asia.
How can I get upgraded to first class?
It's not easy to get an upgrade these days, but it's not impossible. First of all, chances are very slim that you'll get an upgrade because you dressed nicely, asked the flight attendant, or are celebrating your honeymoon (although you might get a free drink or two for that last one, so tell your flight attendant anyway). Additionally, the more classes a flight has (e.g. economy, premium economy, business, and first) the more difficult it is to jump from one class to another. For example, being upgraded from business to first would be unlikely enough; scoring an upgrade from economy to first is unheard of.
If your flight is overbooked, you can offer to give up your seat and ask for an upgrade on your new flight.
Otherwise, try one of these options to spend your way into first class:
Fly the same airline regularly and get VIP status. Each airline has different status tiers, and the higher up you are, the more likely you are to get an upgrade. Get status faster by signing up for an airline credit card.
Use miles to upgrade. Buy your economy ticket and then use frequent flyer miles or reward points to upgrade. Be sure to check your ticket's fare class though, as some allow upgrades more easily than others and some (like basic economy) don't allow for upgrades at all.
Bid on an upgrade. The airlines know this is a premium spot and many allow passengers to bid on an upgraded seat once they have a ticket for a lower class (however, basic economy fares often prohibit upgrades). If upgrades are available, you'll get an email offering you the chance to bid on a new seat. There are plenty of restrictions, but if you read the rules carefully and have a bit of luck, you could score a sweet seat for much less than you'd pay booking it originally.
Score an upgrade voucher. These vouchers are given to high-level elite flyers on an annual basis. Elites who don't need them may sometimes gift them, and they can be used for any flyer, not just the person who received them from the airline.
Which airlines have the best first class services on international flights?
A few airlines stand out among the rest and offer services that were once unimaginable in flight. For example, Emirates' 777-300ER planes offer fully enclosed suites with a full bed, and ultra-luxe dining and drinking options such as Dom Perignon and caviar. The airline's A380s have showers and a bar for first class passengers. Singapore Airlines is known for being swanky and offering plenty of space for first class passengers. Each suite has both a seat and a separate bed, and couples traveling together in adjoining suites can even combine their beds into a double bed. Etihad Airways offers ultra-private "First Apartments" on the Airbus A380 superjumbos. These fully-enclosed suite feature a leather armchair, a large bed (6ft 10in!), and room to walk around.
SeatGuru has a comprehensive list of first class options, including seat width and pitch. And, according to Skytrax's annual World Airline Awards, the airlines with the best first class service in 2021 are:
Singapore Airlines
Lufthansa
Emirates
ANA All Nippon Airways
Air France
Swiss International Air Lines
British Airways
Japan Airlines
Etihad Airways
Korean Air
Read more about first class and business class travel