What is Business Class?
Business class is an airline class above economy with upgraded amenities and seating.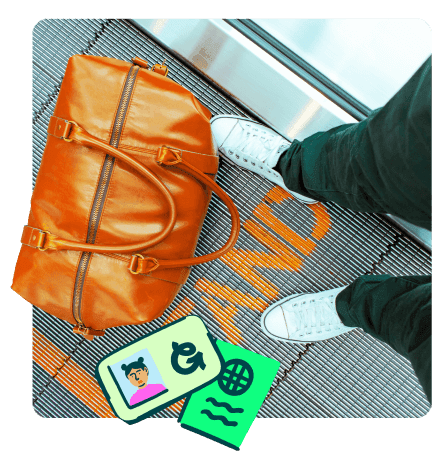 Meet the travel membership saving you hundreds of dollars on flights. We've helped millions travel and experience the world without breaking the bank.
It's said that once you fly business, you can never go back to coach, and that might be correct. Economy can be crowded, with slow service and frustrating processes, but it's also the most affordable way to fly, often priced several thousands of dollars less than costly upgraded counterparts. That's not a small difference.
But go beyond the curtain and discover a world of comfy seats (some that even–*gasp*–lie flat to become a bed), star chef-designed multi-course menus, attentive service, and free-flowing champagne.
Business class is a significant upgrade over economy, or the slightly cushier premium economy, though it's still outpaced by top-of-the-line first class. But as more airlines look to phase out first in favor of business on international routes, it's worth knowing the basics, and whether it's worth splurging thousands on a flight. Read on for our FAQ breaking down the business of business class on international flights.
Is business class worth it for international flights?
It depends on what you want out of a flight, and how much you're willing to pay for it—or whether or not you can find a great deal.
If you can snag an amazing business class deal or upgrade using minimal points, it's likely worth it. If you struggle to get comfortable on long-haul international flights, if you're exceptionally tall, if you're celebrating a special occasion, or if you need to arrive well-rested and ready to go to a make-or-break meeting, then business class may be worth it. But if you can fall asleep anywhere, don't care about white-glove service, or would simply rather spend your travel dollars at your destination rather than in transit, it might not be worth your hard-earned cash.
Of course, it's also worth noting that there's no guarantee you'll sleep your entire flight even in business class—there's always jet lag, turbulence and other passengers to contend with, after all. But the added comfort goes a long way if you intend to start sightseeing immediately, or have important face-to-face meetings first thing on the ground.
Think about how hard it is sleeping on a long-haul redeye when you're planted in the middle of the middle row, with your neighbor snoring softly in your ear, with no room to move or unable to get up to use the bathroom. On most international business class flights, that problem is nonexistent, with wider seats (at least two to three inches over economy) that become fully flat beds. Add in five-star service, excellent entertainment options, and stellar food and drink, and it's a great way to travel when you're celebrating a special occasion, or need to arrive in top form.
What does business class include on international flights?
In addition to the aforementioned upgraded wider seats, which on long-haul international flights often fully recline to become lie-flat beds, business class also provides an elevated experience even before you board.
You'll breeze past economy passengers to check in at a priority desk (with the option to check extra baggage, free of charge) and go through a priority security line. Once checked in, you'll enjoy exclusive lounge access instead of searching for seats at the over-crowded gate, and when it's time to board, you'll be first.
Onboard, you'll sink into a plush seat where amenities like duvet blankets, feather soft pillows, and designer toiletries await. Sip champagne, or your beverage of choice, while everyone else boards. In flight, you'll receive superior drink and food choices (think multi-course menus, unlimited booze, and multiple snacks), and choose from a multitude of entertainment options on enlarged screens. When you land, your bags come out first. That last part alone is pretty spectacular.
Are business class and first class the same?
On most domestic flights, business and first class are essentially the same. In fact, most airlines simply call it first class domestically.
When it comes to international flights, it depends on the flight and carrier. Some airlines have replaced first class with business class entirely. On others, there is both first and business, with first offering an even more upscale experience. Imagine all the perks of business, but perhaps instead of simply lie-flat seats in business, first class has lie-flat seats that can become double beds, ensconced within a private suite that's practically a bedroom. These suites will cost several times more than a business ticket, but the standard of service will be unmatched.
First class passengers always come, well first, when it comes to boarding, in-flight service, and perks. On luxe carriers like Emirates, first class might also include bathrooms with showers, or private transportation to the airport. There's also fewer seats but plenty of flight attendants, so you'll want for nothing.
Read more about the difference between first class and business class.
What's the difference between premium economy and business class on international flights?
While premium economy seats offer increased recline and more legroom than regular economy, the seats don't lie fully flat, and have far less privacy than in business, with fewer amenities, too. Sometimes, the food in premium economy is the same food as in economy, and it's far from the white-glove treatment of business class. Generally, premium economy is more of an upgraded version of economy than it is a lighter version or business or first.
Which airlines have beds in business class?
A lot! Check the airline's website before booking, as offerings may differ based on aircraft. Some of the airlines that most often have lie-flat beds (i.e., flat, not angled) are: Air Canada, Air China, ANA, Air New Zealand, British Airways, Cathay Pacific, Delta, Emirates, Etihad Airways, Iberia, KLM, Qatar Airways, Qantas, Singapore Airlines, South African Airways, United, and Virgin Atlantic.
Seat Guru has a great breakdown of what airlines offer in business class on different aircraft, and whether you can expect to lie flat, angled or sit deeply reclined. It's a great resource so you don't feel disappointed when you step on the plane expecting to spread out in a bed, and find a recliner chair instead.
Are business class tickets refundable?
As with other classes, it varies by your specific fare and airline. Sometimes you'll have the option of a standard business class ticket, which is non refundable, and a flexible or refundable ticket, which allows you a full cash refund. Generally in this case a refundable ticket will cost more.
Which airlines have the best business class?
How much does it cost to fly business class?
Luxury never comes cheap. The price ranges greatly, but business class flights often cost five to ten times the cost of an economy ticket so you can expect to spend a few thousand dollars per person to fly business class internationally. To put that in perspective, if your entire budget for a week in Europe for two people is $3,000, that might very well be the cost of just one business class fare from the US to Europe.
As with other tickets, the price of business class varies with dozens of factors, but in general you can expect the typical price of an international business class ticket to range from $3,000 to $5,000+.
Does Going send alerts for deals in business class?
We do! We've always sent business class Mistake Fares if they were truly cheap (like $300 to Europe or $600 to Asia cheap!). Now we also send cheap business class flight deals to Elite members who are willing to pay a bit more to travel in comfort but aren't willing to pay thousands.
What's the average price of a Going business class deal?
The price varies by departure, destination, and season but in general you can expect to see the deals we send priced at around $500s to Mexico and the Caribbean, around $1,200 to Latin America, $1,700 to Europe, and $2,200 to Asia.
Some recent deals we've sent members in business class include $983 roundtrip to Peru, $198 roundtrip to Napa Valley, and $1,043 roundtrip to the UK.
Read more about travel in business class
Last updated Jun 12, 2023