What is Premium Economy?
Premium economy is the bridge between economy and business; it's nicer than economy, but not as lofty as business.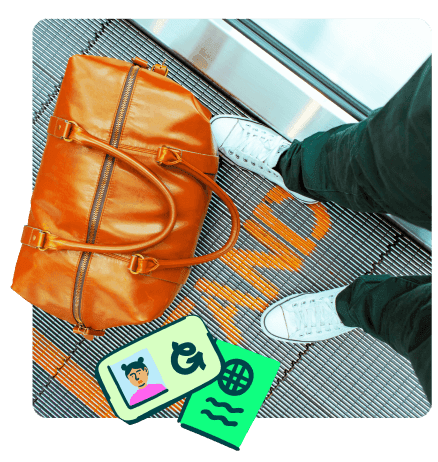 Meet the travel membership saving you hundreds of dollars on flights. We've helped millions travel and experience the world without breaking the bank.
Think: more legroom, increased seat recline, and speedier service for drinks or meals than your pals in coach. But don't expect lie-flat seats or pod suites, either. It's much cheaper than business, but a higher price tag than regular 'ol economy.
For some, premium economy is a call back to flying friendlier skies some 40 years ago. Read on for our FAQ of this premium product at a wallet-friendly price.
Are economy plus or premium economy seats worth it?
Whether or not premium economy seats (sometimes called economy plus or other similar names), are worth it is highly subjective. If you book a ticket in this upgraded class expecting to turn your seat into a bed and snooze soundly, you'll likely be disappointed. But if you want a bit more leg room, recline and width, you'll probably be pleased. There's not a set standard to the seat either, meaning, the offering will vary among airlines, especially between domestic and international flights.
Typically, premium economy will provide about 5-7 extra inches of legroom, plus 1-2 extra inches of seat width and 2-3 extra inches of recline. On a 12+ hour flight, every inch counts, and you're likely to have more room than you would on a short regional flight. Also consider that there are usually adjustable leg rests, power ports, and storage space, and you're looking at a seat that's certainly an overall step up from economy.
There are also often fewer seats in this cabin, too. While some jumbo jets use a 3-4-3 configuration in coach, premium may see a 2-4-2 or 2-3-2
As the exact dimensions aren't standardized, a good rule of thumb is to look closely at the cabin description when booking a plane ticket. Each class lists seat pitch and recline, and can put the difference into perspective. On a shorter flight, it might not be worth the money. But on a red-eye or long-haul flight, those extra inches will go a long way, and you're more likely to arrive rested and ready to go.
What do you get in premium economy?
Aside from an elevated seat experience, premium economy also includes priority service from flight attendants during meal and drink service. You'll be served before all the folks in the back, and typically offered upgraded options, as well as extra snacks and drinks that economy misses out on.
No, it's not the five course menu you'll steal glances of in business, but it's an added touch. Additionally, you may receive in-flight amenities such as an eye mask or toothbrush, upgraded blankets and pillows, and larger screens for viewing entertainment. Some premium economy seats come outfitted with in-seat reading lights, power plugs, and larger tables.
Premium economy may also allow access to priority boarding and added luggage allowance. As a whole, that's quite a different experience than economy or basic economy, which is known to restrict seat choice, bag allowance, and offer little to no food or drink, let alone luxe amenities. Though, the improved seat is the biggest differentiator.
What is the difference between economy plus and premium economy on an international flight?
On some airlines, economy plus is used to denote an experience that's slightly elevated from economy, but not by much. An economy plus seat may be located in a more desirable part of the aircraft or in a bulkhead or emergency exit row. It might include a bit of extra leg room or recline, priority boarding, and a free drink or snack that the rest of economy won't enjoy.
Both premium economy and economy plus experiences range from airline to airline, and there may be different names even within the same airline. For example, American Airlines uses premium economy on international or long haul flights, while it's "Main Cabin Extra" on domestic flights. Similarly, these slightly better seats on Delta's regional flights are called "Comfort Plus," while it's "Premium Select" on international flights. Other airlines use names that are completely different too, like British Airways with "World Traveller Plus."
What is the difference between premium economy and business or first class on an international flight?
As much as premium economy can be a step up from regular economy, the experience pales in comparison to bougie business class. In business, you'll likely find lie-flat seats on long-haul flights, and in some cases, entire bedroom suites.
There are multi-course menus, top-shelf booze, and snacks like ice cream sundaes. Service is attentive, with top-tier entertainment and lots of room for luggage storage. Some airlines pamper business and first class travelers with pajamas, designer amenity sets, duvet bed sets, and posh bathrooms that might make you second guess if you're still on an airplane.
If you book in premium economy, go in expecting a better travel experience than coach, but you may want to avert your eyes from the lucky bunch in front in business or first.
What international airlines offer premium economy?
A lot. SeatGuru offers a comprehensive list here, with individual specs for each airline to see which offer the most pitch and seat width. You can also read some of our guides:
What airlines have the best international premium economy?
While specs can vary by specific aircraft, some of the airlines that offer the most legroom and widest seats in premium economy are: Aeroflot, Air Canada, Air France, Air New Zealand, ANA, Cathay Pacific, China Airlines, EL AL, Eurowings, EVA Air, Japan Airlines, Lufthansa, Norwegian Air, Qantas, Singapore Airlines, Virgin Atlantic, and Virgin Australia.
According to Skytrax's World Airlines Awards, these are the top 10 recipients for "World's Best Premium Economy Class Airlines 2019":
‍
1. Virgin Atlantic
2. Singapore Airlines
3. Air New Zealand
4. Austrian Airlines
5. Air Canada
6. Qantas Airways
7. Lufthansa
8. Virgin Australia
9. Aeroflot
10. Air France
You can also check our our list of the best international premium economy seats and some domestic premium economy/economy plus options worth paying for.
How much more expensive is premium economy on an international flight?
It largely depends on the airline and how far in advance you book. The price difference from premium economy to coach can range from as low as 15-30% more to double the price.
If you're willing to wait closer to take-off, that price might drop and offer a more reasonable upgrade. The difference tends to be smaller on shorter flights than on international routes when premium economy is essentially a fourth class of service among first, business, and economy.
While it's more expensive than coach, it's still generally 65 percent less than business class.
Going now sends Elite members alerts about amazing premium economy class seats. We've found deals like Europe for $849 roundtrip and Hong Kong or Seoul for $886 roundtrip.
How do I upgrade to premium economy?
Once you've booked a regular economy ticket, you have a few options to upgrade, should you choose.
Often, when you manage your flight on the airline's website, you'll be presented with an option to pay to upgrade right away. The airline wants you to do this, as it ensures their more expensive fares will be paid for, and opens your seat in coach to a new customer.
As the departure date nears, some airlines such as Norwegian, Air New Zealand, LOT, Lufthansa, and Virgin Atlantic offer passengers the opportunity to "bid" for cheaper premium economy tickets. You can do a bit of research to see the cost for the seat for your flight online and then bid around 20-30 percent less. But don't expect to bid $5 thinking you're pulling a fast one on the airline; there's usually a minimum. Be sure to check which class you're bidding for, too, as many airlines skip premium economy and go straight to business.
Regardless of the way you want to do it, read the fine print on your original ticket first. Many airlines have rules around changing or upgrading tickets based on what type of fare you originally booked. If you booked the cheapest fare for example, such as basic economy, those rules may become non-negotiable. Those highly discounted tickets are also highly restricted, and often stipulate that you cannot upgrade, no matter how much you're willing to pay. If you want to leave the option open to upgrade, be sure to book in main economy.
Additionally, you may sometimes be able to upgrade when you check in online or at check-in or the departure gate at the airport. Read on for details on how that works.
How much does it cost to upgrade to premium economy on an international flight?
Usually, paying to upgrade means paying the difference in fare from the economy seat you originally purchased and the current rate for the premium economy seat you'd like to buy. However, if the airline has many premium economy seats available, they may sell them for a smaller fee as little as $200-$300 on long-haul flights. If those seats stay sitting empty, the airline loses money. Ultimately, a lessened fee is still additional revenue that they can claim to mitigate their losses.
Another way to upgrade is the loophole of holding status with an airline, or their credit card. In these cases, free or discounted upgrades may be provided to those with the highest status first, based on individual airline rules. Some mandate you request the upgrade ahead of time. Other times, if the airline wants to be sure to sell these seats, they'll offer a discounted rate leading up to the flight's departure.
Can I upgrade to premium economy at the airport?
If the premium economy cabin is not full (after complimentary upgrades are given out to elite flyers), the airline may offer a paid upgrade at check-in or the gate. It's a first-come, first-served basis, and there's no guarantee of a discount at all, as they may very well still only be offering it at the regular price.