What is an Airport Terminal?
An airport terminal is a building where passengers depart on a flight or arrive upon landing.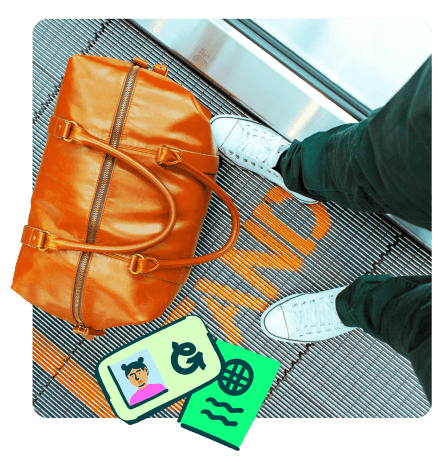 Meet the travel membership saving you hundreds of dollars on flights. We've helped millions travel and experience the world without breaking the bank.
A terminal is made up of several gates where planes park and passengers wait to board. In large terminals, these gate areas may be divided into sections known as concourses, filled with dining, shopping and lounge options, as well as restrooms and other facilities.
For departing passengers, the terminal is where they purchase tickets and/or check in for their flights, check their luggage, go through security, and wait until it is time to board their plane from an assigned gate.
Similarly, upon landing, a plane parks at a gate connected to a terminal, from which a passenger disembarks and proceeds to customs and immigration for international flights, finds their connecting flight, or collects their belongings at baggage claim.
Small airports may be made up of just one terminal, while larger international airports have several. Each terminal is assigned domestic or international flights, or may operate as a hub, where one airline takes up its an entire terminal.
How do I find out my flight's terminal?
To find out your flight's terminal, you generally just need to check your airline confirmation or flight itinerary. This can be found either in your email confirmation, or on the airline's website closer to the day of departure.
The flight terminal is sometimes included on your boarding pass, along with the gate number, when you check in. Additionally, a Google search of your airline and flight number typically returns the terminal along with the flight details.
Sometimes the best way to determine your terminal is simply confirming which terminal your airline operates out of. Some airports assign airlines to specific terminals. You can check this by visiting the airport's website, though be sure to check for your specific flight, as some airlines operate out of multiple terminals.
Monitors and signs within the airport will also be able to direct you to the correct terminal.
Even if your flight confirmation lists a terminal, be sure to check again closer to departure, as airlines sometimes switch both gates and terminals.
Do I have to go back through security when changing terminals?
Whether or not you have to go back through security when changing terminals depends on the airport and your itinerary.
If you are connecting from a domestic flight to another domestic flight operated by the same airline, you may luck out and find your arrival and departure gates are in the same terminal. If not, the two different terminals might be connected, or you might have to exit one and enter the new one by going through a security checkpoint.
When you're arriving in a country (or on a new continent) from a long haul, it's more likely you'll need to transfer terminals. Some international laws dictate that upon arriving in the country, you must collect your baggage and go through customs and immigration and then go back through security. Typically, there are expedited lines for connecting passengers with flights to catch, but not always.
Additionally, at many airports long hauls arrive in one terminal and regional flights depart from another (and vice versa) so it's likely you'll have to switch terminals between flights, and that means you may have to go back through security if the two terminals are not connected post-security.
What airport has the most terminals?
With nine terminals, Los Angeles International Airport (LAX) is the airport with the most terminals in the world. After that, the airports with the most terminals both in the US and internationally include Dallas/Fort Worth International Airport (DFW) with five terminals, and tied with four terminals each, O'Hare International Airport (ORD), London Heathrow Airport (LHR), Leonardo da Vinci International Airport (FCO), and Adolfo Suarez Madrid-Barajas Airport (MAD).
While the following airports don't have as many terminals, they are considerably large with several concourses boasting hundreds of gates within each terminal. They're also some of the busiest airports in the world:
Beijing Capital International Airport (PEK) - 3 terminals
Dubai International Airport (DBX) - 3 terminals
Tokyo International Airport (Haneda Airport) (HND) - 3 terminals
Hartsfield-Jackson Atlanta International Airport (ATL) - 2 terminals
Paris Charles de Gaulle Airport (CDG) - 3 terminals
Hong Kong International Airport (HKG) - 2 terminals
Shanghai Pudong International Airport (PVG) - 2 terminals
Going members get amazingly cheap flights delivered right to their inboxes.