What is Flight Check In?
When you check in for a flight, you confirm that you intend to get on the plane.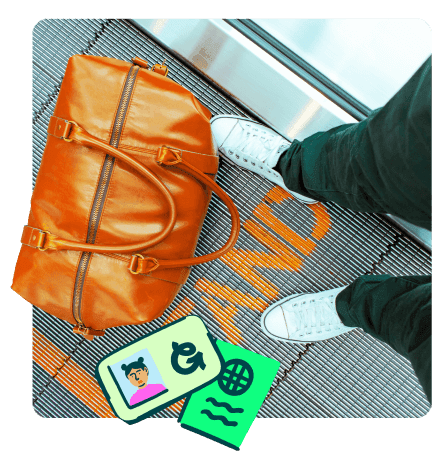 Meet the travel membership saving you hundreds of dollars on flights. We've helped millions travel and experience the world without breaking the bank.
If you don't check in, you won't receive a boarding pass that allows you to board the plane, and your seat might be given up to a standby passenger. The check-in process also confirms your traveler details like your passport information and frequent flyer number.
What's the advantage of online check-in?
Online check-in is advantageous for several reasons. The sooner you check in, the sooner you're able to pick your seat, if you haven't already. 
If you're flying on a basic economy ticket, this will be the first opportunity for you to select a seat. Seat selection is first-come, first-served, so it's important to check in as soon as it's allowed. 
You're also able to pay for an upgrade at this point—again, this is based on availability, so it's in your best interest to check in sooner rather than later if you're hoping to pay for an upgrade to a premium class.
If a flight is oversold, those who checked in last might have a higher risk of being bumped from the flight (though this varies by airline and fare, and involuntary bumps are rare; the airline will start by offering vouchers to volunteers.)
If you're not checking luggage, you can skip the check-in desk at the airport and head right to security.
Additionally, it's important to check in online—as close to the 24-hour mark as possible—when flying on Southwest, as Southwest has open seating and boarding order is determined by check-in order (though there is an option to pay more for automatic early check-in). 
At check-in, Southwest passengers are assigned a letter, starting with A, and a number 1-60. Group A boards first (with A1 the first passenger within the group), followed by Group B, etc. The longer you wait to check in for your flight, the farther back you'll be in this boarding line. If you're one of the last people to board, you're choice of seats will be very limited.
How early can you check in for a flight online?
Most airlines open online check-in 24 hours prior to the flight. Some have a slightly longer window, up to 36 hours before the flight. Be sure to confirm the exact time with your airline.
Do I need to check in for each flight in my itinerary?
Typically you only need to check in once for your outbound itinerary and once for the return, particularly when all your flights are booked together. Sometimes when flying multiple airlines on an itinerary, you will need to wait until you arrive in your connecting airport to get the onward boarding pass, but you'll have been considered checked in already.
Is it better to check in for a flight online or at the airport?
It's typically better to check in online, since you can do so much sooner than you would be able to in person at the airport. As mentioned above, it's especially important to check in early for a Southwest flight, since boarding order is determined by check-in order. 
If you can't check in online—some airlines require you in-person check in for certain flights, especially when flying internationally—make sure you get to the airport with adequate time before your flight, as you might need to wait in a long line. 
Each airline also has a cut-off time for check-in: it's usually about 45 minutes before domestic flights and 90 minutes before international flights, but the exact times vary by airline.
Can I check in for a flight online if I'm checking bags?
Yes, you can check in online for a flight even if you plan to check bags. You'll still have to tag your bags and drop them off in the departures hall at the airport, but in some cases, checking in online might be able to save you time, as some airlines have specific bag drop lines for passengers who have already checked-in (and paid any applicable fees for checked bags) online. 
You may need to use a self-service kiosk at the airport to print luggage tags before depositing your bags on the conveyor belt, or you might have to see a desk agent.
How early do you have to be at the airport if you have checked in online?
If you've checked in online, it's typically recommended that you arrive at the airport at least two hours before a domestic flight and three hours for international ones. 
There are many variables at play, such as how busy the airport is, whether or not you're checking luggage (every airline has its own cut-off time after which no more checked luggage will be accepted), and whether or not you have access to an expedited security line through programs like TSA PreCheck or CLEAR. Priority passengers, like those with business class tickets or frequent-flyer status, might also have access to expedited lines. 
We recommend confirming timing with your airline or checking the recommendation issues by the specific airport.
What happens in you don't check in for your flight?
If you don't check in for your flight by the cut-off time, you may be denied boarding. The airline may bump you to the next available flight.
If you are a no-show, you'll likely lose the value of your ticket.
Going members get amazingly cheap flights delivered right to their inboxes.
Last updated Jun 12, 2023