What is Priority Pass?
Priority Pass is a membership-based service that offers access to 1,200 airport lounges in 140 countries.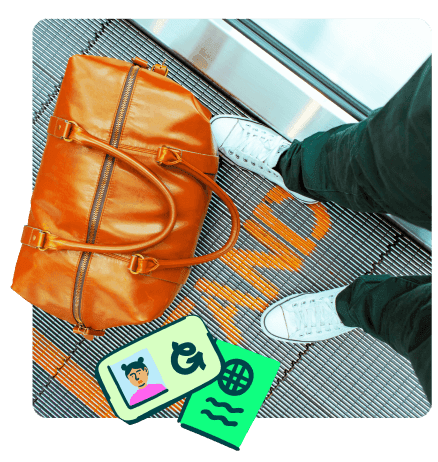 Meet the travel membership saving you hundreds of dollars on flights. We've helped millions travel and experience the world without breaking the bank.
What are the benefits of Priority Pass?
Priority Pass members are granted free access at hundreds of airport lounges worldwide as well as dining credits at restaurants within the network. Priority Pass does not operate these lounges or restaurants; they are run by airlines (like the KLM-Air France lounge at Chicago O'Hare) or independent companies. Priority Pass partners with these lounges and restaurants to give its members access and benefits. 
Lounges provide travelers with a clean, quiet space to get work done or relax, along with food, drink, WiFi, reading material, television entertainment, and other amenities. Some lounges also offer facilities like showers, full bars, well-maintained bathrooms, conference rooms, separate smoking areas, sleeping suites, and spa services. 
Depending on the membership, some Priority Pass holders also get access to food and drink credit (typically $28) for use at participating airport restaurants, bars, and mini-suites outside of the designated lounge areas. Most memberships also include the option to bring a non-member guest or two into the lounge, sometimes gratis and sometimes for an additional fee.
How do I get a Priority Pass?
Interested travelers can either purchase a Priority Pass membership directly from the company or open a credit card that includes free Priority Pass membership.
How much does a Priority Pass cost?
If you want to buy a Priority Pass outright, you can choose from three membership tiers. 
The Standard membership is priced at $99 per year plus a $32 member visit fee each time you check into a lounge (guests are an additional $32 each). For $299 annually, the Standard Plus option gives you 10 free lounge visits before the $32 member visit fee kicks in, with guest costing another $32 each. The Prestige pass comes with a $429 annual fee and gives members free unlimited lounge visits, though you still have to pay $32 per guest.
However, many credit cards include membership for free as part of their benefits.
Which credit cards include a Priority Pass?
As mentioned, a handful of major US credit cards include Priority Pass membership as a part of their benefit package. 
When the membership is offered as a credit card benefit, the membership is called Priority Pass Select, and the benefits are similar to the Prestige membership mentioned above, but without the fee. The number of guests, and the fee for additional guests, can vary by card. Additionally, not all cards include the $28 dining credit as a benefit. 
Check with each card to compare individual benefits. Here are the cards that include Priority Pass membership: 
Chase Sapphire Reserve 
Citi Prestige Card 
The Platinum Card from American Express 
The Business Platinum Card from American Express 
Hilton Honors Aspire Card from American Express 
Hilton Honors American Express Ascend Card 
Marriott Bonvoy Brilliant American Express Card 
Mastercard Black Card 
U.S. Bank Altitude Reserve Visa Infinite Card
What airports have a Priority Pass lounge?
While 40 stateside airports have Priority Pass lounges, the program has a much more robust presence overseas, making membership particularly beneficial for frequent international travelers. Note that there are also Priority Pass lounges in some smaller airports around the globe that might not otherwise have an airline-related lounge. 
For a full list of lounges, check out this interactive map.
US airports with participating lounges:
Baltimore-Washington International, Maryland (BWI)
Boston Logan International, Massachusetts (BOS)
Buffalo Niagara International Airport, New York (BUF)
Charleston International Airport, South Carolina (CHS)
Charlotte Douglas International, North Carolina (CLT)
Chicago O'Hare International, Illinois (ORD)
Cincinnati/Northern Kentucky International, Ohio (CVG)
Cleveland Hopkins International, Ohio (CLE)
Colorado Springs Airport, Colorado (COS)
Dallas-Fort Worth International, Texas (DFW)
Fort Lauderdale–Hollywood International, Florida (FLL)
George Bush Houston Intercontinental, Texas (IAH)
Hartsfield-Jackson Atlanta International, Georgia (ATL)
Honolulu International, Hawaii (HNL)
Indianapolis International, Indiana (IND)
Jacksonville International, Florida (JAX)
John F. Kennedy International, New York (JFK)
Las Vegas McCarran International Airport, Nevada (LAS)
Lexington Blue Grass Airport, Kentucky (LEX)
Los Angeles International, California (LAX)
Miami International, Florida (MIA)
Minneapolis−Saint Paul International, Minnesota (MSP)
Newark Liberty International, New Jersey (EWR)
New Orleans International Airport, Louisiana (MSY)
Norman Y. Mineta San Jose International, California (SJC)
Orlando International, Florida (MCO)
Orlando-Sanford International, Florida (SFB)
Philadelphia International, Pennsylvania (PHL)
Pittsburgh International, Pennsylvania (PIT)
Portland International, Oregon (PDX)
Ronald Reagan Washington National, Washington DC (DCA)
San Francisco International, California (SFO)
San Juan International, Puerto Rico (SJU)
Seattle-Tacoma International, Washington (SEA)
St. Louis Lambert International, Missouri (STL)
Syracuse Hancock International, New York (SYR)
Tampa International, Florida (TPA)
Tucson International, Arizona (TUS)
Washington Dulles International, Washington DC (IAD)
And, here's a non-comprehensive list of some of the major international hubs with participating lounges: 
Amsterdam Airport Schiphol, the Netherlands (AMS)
Bangkok Suvarnabhumi International, Thailand (BKK)
Beijing Capital International, China (PEK)
Dubai International Airport, UAE (DXB)
Frankfurt Airport, Germany (FRA)
Guangzhou Baiyun International, China (CAN)
Hong Kong Chek Lap Kok International, Hong Kong (HKG)
Istanbul Sabiha Gokcen International, Turkey (SAW)
London Heathrow, UK (LHR)
Madrid-Barajas Adolfo Suarez Airport, Spain (MAD)
Mexico City Benito Juarez International, Mexico (MEX)
New Delhi Indira Gandhi International, India (DEL)
Paris Charles de Gaulle Airport, France (CDG)
Seoul Incheon International, South Korea (ICN)
Shanghai Pudong International, China (PVG)
Singapore Changi International, Singapore (SIN)
Tokyo Narita International, Japan (NRT)
Toronto Pearson International, Canada (YYZ)
Is food and alcohol free in Priority Pass lounges?
In terms of food and drink, availability and cost varies greatly by lounge. However, a selection of snacks or light meals, soft drinks, coffee, and alcoholic drinks are usually complimentary. Some lounges offer an a la carte menu for an extra charge while others provide hot meals and multiple buffets on the house; some feature serve-your-self bars with a limited array of spirits, wine, and beer while others have multiple fully stocked bars with bartenders; some lounges offer free cocktails, beer, wine, and spirits while others upcharge for premium alcoholic beverages like top shelf liquor, fine wine, and craft or imported beer. 
These differences generally depend on airport and/or lounge size, local laws, and whether the lounge operates independently or in association with specific airline or airline alliance. If you're curious as to what a particular lounge offers, you can look it up on the Priority Pass website or digital app.
Can I bring a guest with me to a Priority Pass lounge?
Priority Pass usually lets members bring traveling companions with them into the lounge, however the number of guests you're allowed to invite and the cost of each guest depends on the type of membership you hold as well as specific lounge limitations. 
Priority Pass Select-inclusive credit cards usually allow members up to two guests for free (see above) while guests of regular Priority Pass members cost $32 each. Select lounges also have their own rules about guest admittance, so make sure to read up on the fine print ahead of time.
How does the dining credit work?
At some airports, in addition to (or in place of) lounge access, your Priority Pass membership gets you a dining credit at select restaurants. There are currently more than two dozen of these restaurants in US airports, and another dozen internationally. The Points Guy has a comprehensive list. 
At most restaurants, the credit is $28, while at a few it's $30. The credit is per person, so if your Priority Pass membership allows for guests, you each get the credit. However, you cannot use multiple credits for yourself. The credit is also per restaurants, so for airports with multiple restaurants in the program, you could visit multiple in one day. 
Typically you'll need to show a boarding pass for confirmed same day travel; some restaurants require an outbound boarding pass, while others allow you to use the credit upon arrival. If you go over the $28 amount, you'll simply need to pay the difference. And don't forget to tip your server as the Priority Pass credit can't be used for gratuity.
Can I use someone else's Priority Pass or lend someone mine?
No. Priority Pass never allows members to transfer credentials to another traveler. However, many of the credit cards mentioned above do provide separate Priority Pass Select memberships to authorized card holders on the same account.
Is Priority Pass worth it?
Few Priority Pass holders actually pay outright for membership; most people receive membership through a credit card that offers Priority Pass as a card benefit alongside other great travel-related benefits like hotel, car rental, and airline points or credits; no overseas transaction fees; and reimbursement for Global Entry or TSA PreCheck application fees.
If you don't have one of these cards (and don't have an interest or the ability to get one), Priority Pass membership may still be worth paying for, depending on how much you travel. For example, for casual travelers who mainly fly domestically or take occasional trips overseas, Priority Pass probably isn't worth the hefty price tag and companion fees. But if you travel several times per year and the airports you travel through most often have a Priority Pass lounge (or a restaurant that offers the dining credit through the program), a membership could pay for itself over time.
>>Join Going and get cheap flights and travel tips delivered right to your inbox.
Last updated Jun 12, 2023