What is an Amenity Kit?
An amenity kit is a small bag of personal care items that airlines provide on long-haul or international flights.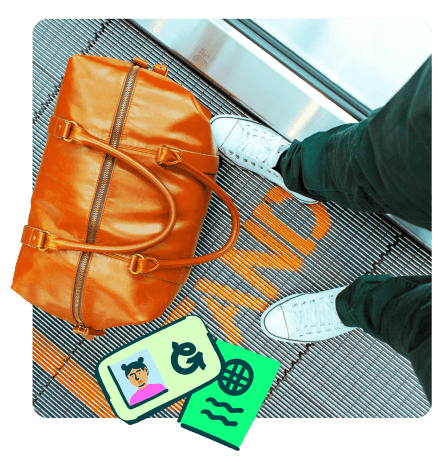 Meet the travel membership saving you hundreds of dollars on flights. We've helped millions travel and experience the world without breaking the bank.
What's in most amenity kits?
The contents of an amenity kit vary widely per airline, but usually they contain a toothbrush and toothpaste, lotion and lip balm, earplugs, an eye mask, and sometimes socks. 
Sometimes airlines will collaborate with certain designer brands to provide a little bit of luxury, including items like a small bottle of perfume or a set of pajamas. For example, Etihad Airways' amenity kits are Christian Lacroix-designed and filled with skincare products from Omorovicza's luxury line.
What airlines give amenity kits in economy class?
Turkish Airlines gives all of its economy class passengers a simple amenity kit with eyeshades, a toothbrush, toothpaste, socks, and earplugs. Singapore Air offers a similar kit for its economy passengers.
And Etihad Airways offers all its long-haul passengers a "Sleep Tight" amenity kit with socks and dental care products. On the longest flights, passengers get pillows that convert into neck pillows for better sleep.
In premium economy, all passengers in Delta Premium Select receive TUMI amenity kits with Malin+Goetz cosmetics, socks, eyeshades, and a few other odds and ends. EVA Air's Premium Economy Class passengers and Air New Zealand's Premium Economy customers also receive amenity bags with essential toiletries and cosmetics.
Which airline has the best amenity kit?
That's a tough one, but there are a few stand-out amenity kits out there.
Emirates offers luxurious kits containing everything from moisturizers and aftershaves by Bvlgari to Eau Parfumée Au Thé Vert (and of course the usual amenities, like toothbrushes and toothpaste). Even better: they also hand out noise-canceling headphones for use on the plane. 
Turkish Airlines' long-haul business class kits are also noteworthy. In the past, Turkish Airlines has paired with designer names like Versace to include Versace skincare products and small bottles of eau de toilette. Other amenities include lip balm, slippers, adjustable headphones, and non-slip socks.
Do you get to keep airline pajamas? What about headphones or blankets?
Whether or not you get to keep your extra goodies depends on the airline. You'll almost certainly not be keeping any noise-canceling headphones, but you can sometimes keep your pajamas and blankets. Swiss Air, British Airways, American Airlines, Jet Airways, Virgin Atlantic will not request that you return either item. When in doubt, ask the flight attendants.
>> Going members get amazingly cheap flights delivered right to their inboxes.