What is Economy Class?
Economy class is another term for the airplane's main cabin and is sometimes referred to as coach.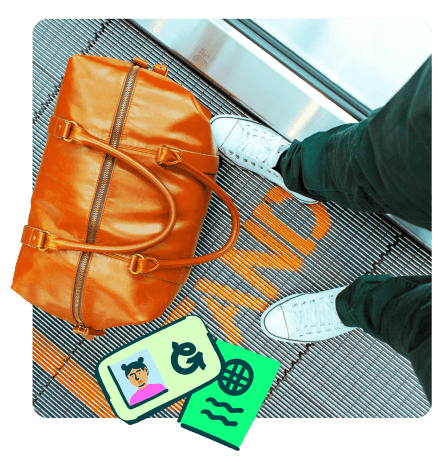 Meet the travel membership saving you hundreds of dollars on flights. We've helped millions travel and experience the world without breaking the bank.
What's the difference between economy and premium economy?
On international flights, the difference between economy class and upgraded premium economy classes vary by airline, route, and plane type. 
In some cases, these seats can be very similar to regular economy seats but with a few inches of additional recline, legroom, and seat width. They may be located at the front of the main cabin but not in their own separate section. Popular examples include United's Economy Plus, Delta's Comfort +, American's Main Cabin Extra, and JetBlue's Even More Space. You may also get priority boarding, complimentary alcoholic beverages, and a wider snack selection. Some include a free checked bag along with designated overhead bin space..
Other versions of premium economy are a much bigger step above regular economy. The seats may have enhanced headrests, seat pitch, and footrests, so they offer better legroom and comfort than economy (though still not quite as nice as business or first). There are sometimes located in a separate cabin, and sometimes even have their own designated bathrooms. This fare class occasionally even offers luxe perks like a different food and drink menu, dedicated flight attendants, bigger entertainment screens, and amenity kits. Planes outfitted with premium economy cabins are often reserved for long-haul flights. Examples include British Airways' World Traveler Plus, Delta's Premium Select, JAL's Sky Premium, United Premium Plus, and Virgin Atlantic and Virgin Australia's Premium class.
On domestic and short-haul flights, however, premium economy is typically very similar to economy in service and seating, but with slightly increased legroom and recline.
What's the difference between economy and basic economy?
The difference between economy class and the discounted basic economy class varies by airline, route, and plane type. Basic economy is typically the cheapest fare class offered by an airline. 
The seats are the same as regular economy and located in the same cabin, but the ticket doesn't include many of the amenities standard to regular economy like advanced seat assignments and complimentary upgrades based on airline loyalty status. Basic economy passengers typically accrue fewer loyalty points, have more restrictions on carry-on and checked luggage, and board last.
Can I choose my seats with an economy ticket?
Most airlines allow regular economy passengers to choose their seats during the booking process, though some seats like exit rows and bulkheads might incur extra fees. Some airlines, especially budget airlines, might charge economy passengers to pick their seats ahead of time regardless of seat location.
Can I bring checked luggage with an economy ticket?
Checked luggage allowances vary greatly by airline, route, season, and airline loyalty program status. Some airlines allow economy passengers on international flights one to two free checked bags each way in economy, while most airlines charge economy passengers to check bags on domestic flights, with fees ranging from $30 to $60 per bag each way. 
Some budget airlines like Norwegian charge passengers per leg (i.e. if your itinerary includes a layover, you must pay additional checked baggage fees).
Can I bring a carry-on bag on board with an economy ticket?
Most airlines allow regular economy passengers one carry-on bag and one personal item like a laptop bag, knapsack, or purse, free of charge, though this policy can differ based on carrier, route, and plane type. 
Long-haul flights typically allow regular economy passengers to bring a full-size carry-on bag onboard along with their personal item, though some budget carriers charge regular economy passengers an additional fee for a full-sized carry-on bag regardless of route length. Smaller personal items are almost always free.
Does an economy ticket include food and drinks?
Food and drink availability for economy passengers also differs based on airline and route. On short- and medium-haul flights, most legacy airlines provide complimentary soft drinks and a small snack like peanuts or crackers as well; more substantial meals and alcoholic beverages are available for purchase. 
On long-haul flights, many major airlines include a free hot meal and a heartier snack as well as soft drinks and some free alcoholic beverages in an economy class fare. 
Other carriers, especially low-cost airlines, charge economy passengers for all refreshments regardless of route length.
What airline has the best economy seats for international flights?
While economy conditions vary based on plane type and route, five-star airlines generally offer some of the most comfortable seats. 
On Singapore Airlines' newer long-haul aircrafts like the Airbus A380 and Boeing 777-300, all economy class seats come with 32-inches of pitch, cushioned six-way adjustable headrests, HD seatback entertainment touch screens ranging from 10 to 11 inches, built-in smartphone storage, and both USB ports and power plugs for charging.
Japan's All Nippon Airlines (ANA) also stands out for its upgraded economy class amenities. Several of the airline's newer models sport fixed-back shell seats in the economy cabin (which recline by sliding into themselves as opposed to crowding the passenger behind them) as well as both USB ports and AC power plugs for charging. Most ANA economy class seats come with a whopping 34 inches of pitch, and some plane types also offer footrests for enhanced comfort.
For short- and medium-haul international flights, JetBlue offers one of the best economy class experiences with a wide range of complimentary snacks, live in-seat TV, and free WiFi on every aircraft. Several of their planes come with 32 inches of pitch in the economy cabin while their newer Airbus A320 offers economy passengers a full 34 inches.
Last updated Jun 12, 2023